Fantasy Podcasts of Former TV Co-Stars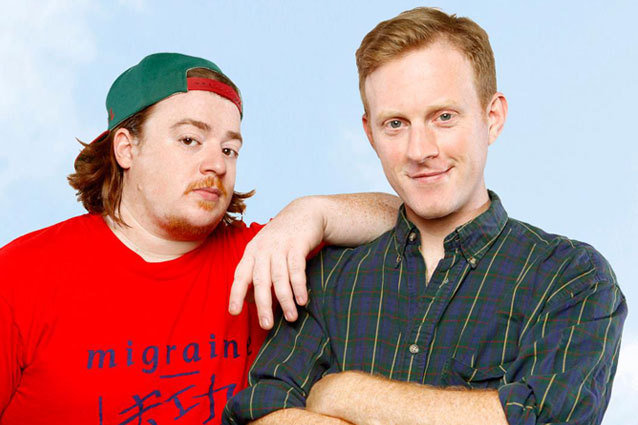 Man or woman cannot survive on DVD box sets and possible Netflix reboots alone when it comes to enjoying our favorite TV casts. What better way for television's most dynamic duos to live on than in podcast form? With that thinking in mind, former co-stars of the beloved '90s Nickelodeon show The Adventures of Pete & Pete, Michael Maronna (Big Pete) and Danny Tamberelli (Little Pete)are hosting their own podcast. "The Adventures of Danny and Mike," will send them out on the road to try their hand at different jobs such as guest-bartending in Montreal or managing an ice cream truck in Brooklyn. I guess that means Tamberelli will have to take a break from touring with his jam band. The recent announcement got us thinking of what other former duos should team up again to join the podcast-sphere.
Larry David & Leon Black
While some would argue that Larry and Jeff from Curb Your Enthusiasm would make the most compatible hosts, we think it would take Leon (played by J.B Smoove) to really push Larry's buttons and make for much more interesting airtime. The two already briefly reunited for David's HBO Film, Clear History, but that gives us just a taste of what these two masters of improv could accomplish if given their own show. Let's call it "Tit for Tat" for now.
Daria Morgendorffer & Jane Lane
If you're going to tease millennials with a Pete & Pete reunion, they why not give them what they really want – a Daria and Jane reunion. They've already mastered the art of voice-acting, so a podcast would be a natural transition for both Tracy Grandstaff (Daria) and Wendy Hoopes (Jane). They could talk about the "Plastic of the Week" and expose everyday hypocrisy in a very, very soothing voice. Granted, Grandstaff's schedule is tight being a vice-president at Comedy Central and all and Hoopes is still acting, but we think they could make it work for the sake of the greater good.
Bret McKenzie and Jemaine Clement
These comedic troubadours from New Zealand started off as a BBC radio show, so it makes sense for them to return to their roots. Flight of the Conchords made an early exit from HBO – leaving us with an emotional void that only the sweet falsetto of Bret McKenzie and smooth dulcet tones of Jermaine Clement can fill.
Dr. Frasier & Dr. Miles Crane
For the NPR-listening, tweed-clad set, a spin-off Frasier podcast would be just the thing to ease into your morning and fend off road rage with the some spirited discourse from our favorite buttoned-down WASP brothers. Kelsey Grammer would be a natural fit, having already played a radio host in the sitcom and David Hyde Pierce could diagnose people's problems with faux psychiatry. Having won a Tony, perhaps he could occasionally break out into song while Grammer dishes out dirt on Real Housewives of Beverly Hills.
Rickie Vasquez & Rayanne Graff
Claire Danes may have received all the accolades, but for us, My So-Called Life revolved around Rickie & Rayanne played by Wilson Cruz and A.J. Langer. Their chemistry was unmistakable and their sartorial choices have probably inspired thousands of tumblr themes, so why not bring this fierce twosome back together? Cruz can fluctuate into talking about modern gay culture and basic b**tches while Langer or shall we call her "Lady Courtenay," can reveal what her day-to-day life is like being married to an English Earl.
More:
Sabrina the Teenage Junkie: Melissa Joan Hart Comes Clean
Can 'Elementary' Keep Us Hooked?
A Few Facts About '300 Sandwiches'
---
From Our Partners


Stars Pose Naked for 'Allure' (Celebuzz)


20 Grisliest TV Deaths of 2012-2013 (Vulture)