George W. Bush Nude Portraits Leaked: Check Out Other Pop Culture Nude Art!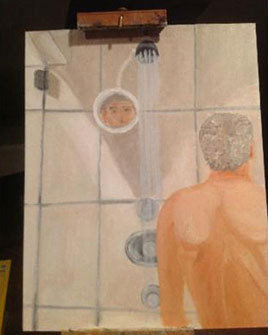 While the fact that a cache of e-mails to and from various Bush family members leaked online recently isn't inherently scandalous, two image files included in the political family's correspondence sure are: Former President George W. Bush allegedly sent his sister two unfinished portraits of himself in the tub and the shower … naked.
Yeah, you read that right — our president of eight years is nude in these paintings. And the former POTUS is the one who did it. Sure, the portraits aren't actually revealing in any way, but come on. The former President. Painted himself. Naked. 
That's just pop culture gold right there. In his honor, Hollywood.com rounded up a few of the best (or at least funniest) tasteful nude portraits in pop culture history. Check them out below:
RELATED: Pop Culture Moments That Would Have Been Better Naked
Vince Vaughn's hard-partying playboy in Wedding Crashers didn't paint himself nude, nor did he even pose for his portrait, but he loved it nontheless. "It was a gift!" 
Probably one of the most iconic nude portraits in pop culture was when Jack drew Rose before the Titanic met its unfortunate fate. "So serious!" 
Who knew Jerry from Parks and Rec was such an artist? Starting at 3:03, check out his amazing, nude centaur incarnation of his boss, Leslie Knope.
And last but not least, how could we not include Will Ferrell (aka the greatest George W. Bush impersonator) as the inspiration in a nude sculpting class in a Saturday Night Live sketch?
Follow Sydney on Twitter: @SydneyBucksbaum
[Photo Credit: The Smoking Gun]
---
From Our Partners:

Celebrity Swimsuits Ever (Celebuzz)

Stars: Where Are They Now? (Celebuzz)