Goldie Hawn: Why I'll Never Marry Kurt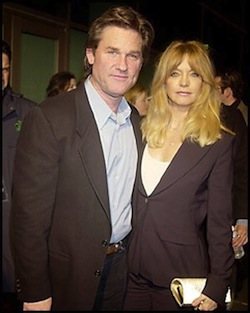 Relationships in Hollywood are notoriously short-lived, but one couple has managed to go the distance, despite the fact that they never tied the knot. Goldie Hawn and Kurt Russell have been together since 1983 and raised four children together (they have one son together and three kids from previous relationships), yet Hawn says they have no intention of getting married.
So, why has their relationship lasted nearly three decades? Hawn tells Radio 4's Woman's Hour, "There's a trick. You have to like the way each other smell." She isn't talking about maintaining a certain standard of cleanliness. She explains, "I think it's that the pheromones haven't gone away. The chemicals are still popping."
That isn't to say that their relationship has always been rosy. "You don't aways agree with your mate. You don't even like them sometimes. But there is something there that sparks you. You have to focus on that as you move on," says Hawn, adding, "I think Kurt's an extraordinary person. I love being with him and I love our family and I love our family life."
In recent years a few notoriously unwed couples called it quits, including Susan Sarandon and Tim Robbins, who were together for 23 years, and Charlize Theron and Stuart Townsend, who dated for 9 years. However, there are still quite a few couples who share Hawn and Russell's belief that marriage isn't a requirement for a long and happy relationship:
Kourtney Kardashian and Scott Disick
Don't expect to see another Kardashian wedding special on E! anytime soon. Though Kourtney and Scott have been together since 2007 and are expecting their second child, she declared on an episode of Keeping Up with the Kardashians, "I definitely don't want to get married just for the sake of getting married. This is my life. I don't need a piece of paper to make it a family unit." 
Jon Hamm and Jennifer Westfeldt
Though Don seems to be headed into another ill-fated marriage on Mad Man, in real life Jon Hamm and Jennifer Westfeldt have been happily unmarried since 1997. In 2012 Hamm told Parade, "I don't have the marriage chip, and neither of us have the greatest examples of marriages in our families. But Jen is the love of my life, and we've already been together four times longer than my parents were married."
Liev Shreiber and Naomi Watts
Like Hamm and Westfeldt, Liev Shreiber and Naomi Watts, who have been together since 2005 and have two sons, say their family history made them uninterested in marriage. "It's not like I've grown up having this dream of a fairy-tale wedding," Watts told Paradein 2009. "My mother married twice and had two divorces. And Liev comes from the same kind of background. Maybe one day we'll just wake up and go, 'Hey, let's do this.' And maybe not. He and I have a family. We're very much together. We just don't have that certificate, and that's okay with both of us. He gave me a beautiful ring, although I'm not wearing it right now."
Angelina Jolie and Brad Pitt
Though we've been hearing rumors about their impending nuptials for the seven years that they've been together, Angelina Jolie and Brad Pitt famously declared that they won't even consider getting hitched until same-sex marriage is legalized. Though, recently Pitt told The Hollywood Reporter that they haven't ruled out the possibility. 
He explained, "We made this declaration some time ago that we weren't going to do it till everyone can. But I don't think we'll be able to hold out. It means so much to my kids, and they ask a lot. And it means something to me, too, to make that kind of commitment."
Oprah Winfrey and Stedman Graham
Oprah may be the most famously unmarried celebrity, but in May 2012 she told O, The Oprah Magazine that she and Stedman Graham were once set to marry — she just didn't enjoy being engaged.  
She said, "Actually, Stedman asked me to marry him, and at first I said 'Yes!' but it turned out that I wanted to be asked to be married more than I wanted to be married … It just felt like the wrong thing for me. This was at the same time that I was supposed to have the book coming out. We were in Miami, in the back of a limousine, coming back from the party with the big shrimp, and Stedman asks, 'So when is the book coming out?' The book was coming out September 14 or something, and our wedding had been scheduled for September 8. We had a date and everything. 
So Stedman says, 'Well, I don't want to have my wedding in competition with your book.' And I remember thinking, 'Yes! Really? Okay, great! I ended up canceling both, and we have not discussed it since that day."
Source: Press Association
---
You Might Also Like:


15 Oscar-Winning Nude Scenes


Topanga's Revealing Lingerie Shoot: Hello '90s!