Rating the Grammy Performances From Best to LL Cool J — VIDEO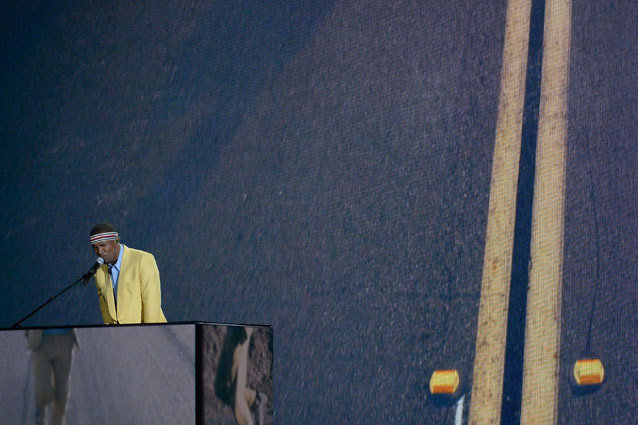 Even if you're of the mindset that the awards no longer matter, it's hard not see the Grammys as a free televised concert coutesy of the biggest names in music. (Thanks, guys!) And while it's all the spirit of togetherness and musicianship, it's hard not to pit performers against each other. Who blew us away and who sank like rock in the Ocean?
Most Confusing Horror/Literary Reference: Taylor Swift
Her performance of "We Are Never Getting Back Together" opened with a Jigsaw lookalike reciting lines from "The Raven," before adding Alice in Wonderland characters to Taylor's sparkly ringleader, all so she could tie Glasses Guy to a psychadelic torture device for even thinking that they could like, ever, ever, ever get back together. It's still got a little too much of that T-Swizzle hubris though. Color us confused and amused.
RELATED: 2013 Grammys Winners List
Most Baby-Making Performance: Miguel and Wiz Khalifa
Were you distracted by the sheer amount of stripes onstage during this performance? If your answer is "yes" then your TV's volume clearly wasn't turned up high enough. Miguel's vocals were everything we dreamed they would be live, and man, were they sexy. Yes, Wiz Khalifa was there too. But Miguel, you guys. The Grammys cruelly made him cap off his performance by announcing the Solo Country Performance nominees, and it was jarring, but that performance was still perfection.
Most Lena-Dunham-Pleasing Performance: fun.
Alright, this was cute, albeit a little lackluster. Their performance of "Carry On," what with its little floating light orbs and lack of Lena Dunham cutaways (she's dating the guitarist) was simply nice. After learning every last word to "Some Nights" and "We Are Young," two endlessly rousing pop songs, it's just hard to get really into it when they slow it down. Plus, when the mid-performance rainstorm came down on them, I was too distracted by wondering what happened to the instruments to really give the tune a chance. Lena Dunham sure liked it though.
Most Awkwardly Heartbreaking Performance: Frank Ocean
Ocean's performance was saved for last (we refuse to count the LL Cool J performance that was basically what happens when the Karaoke DJ closes down the bar for the night), and by all rights it should have been the best of the night. Ocean is widely regarded as one of the most important new voices in the music industry for both his talent and the courage it took for him to be openly gay in a community that's largely without that brand of honesty. So when he took the stage with "Forrest Gump," a song that openly celebrates his lifestyle, we wanted it to be perfect. But Ocean's vocals were off, causing him to go flat for most of the song. It was heartbreaking, and the radio silence from everyone, including the Staples Center audience, was a clear sign that a flub from Ocean was something none of us was able to really wrap our heads around.
RELATED: Taylor Swift Sings Along to Every Grammy Performance – PICS
Best Justin Timberlake Comeback: Justin Timberlake and Jay-Z
The self-promotion was getting a little nutty, but by the time Ellen and Beyonce were girling out over JT onstage together, all annoyances were forgiven. JT is back! And he's in sepia tone! (Which is a move he may have stolen from Bruno Mars' last Grammy performance, but he pulls it off way better so we're going to go ahead and let that go.) And with a standing ovation from the Grammys crowd! JT didn't get nearly as dancey as he's generally wont to do, but watching him perform "Suit and Tie" with Jay-Z was an epic moment in musical history. And for the "Suit and Tie" haters, Justin tacked on "Pusher Love Girl" — a wonderful song until that point where you realize he's singing about Jessica Biel and not you.
Most Familiar, But Not in Annoying Way, Performance: Mumford and Sons
This looked a heck of a lot like the band's 2011 Grammy performance alongside Bob Dylan — between the straight line formation and the flashing lights behind them, it was all a little too familiar. But then, Marcus Mumford started breaking it down and melting hearts and suddenly, the staging mattered not. We will wait for you all damn day, boys. (And if we're not there, you can be sure super fan Taylor Swift will be.) Video coming soon



Worst Psych! Performance Ever: Bruno Mars' Bob Marley Tribute

Once the performance added Sting, Rihanna, and Ziggy and Damien Marley to get the crowd going for "Could You Be Loved," this sweet little tribute to Mr. Marley picked up and became something of a momentary beach party. But when it (and by "it," I mean a tribute to Bob Marley and not a moment of Bruno Mars' self-promo time) started, the first song sounded a hell of a lot like "Locked Out of Heaven," which is a Bruno Mars song and not a Marley tune. Oh, that's because it was? What other tribute started with someone's own music as opposed to the person being honored? Oh, none of them? So, Bruno Mars is the only ego-maniac dropping his own song into a tribute. Okay. Glad we got that straight.

RELATED: 10 Looks That Violated CBS' Grammy Rules

Most Unintentionally Disturbing Performance: Rihanna

In what should have been a great, intimate performance of "Stay," Rihanna made us all very uncomfortable. We knew she was at the show with Chris Brown, and we know how autobiographical she can be in her art. It was hard not to feel like she was singing this song to the man none of us can believe she's gone back to. Sorry, Gavin Purcell. Your assist was fine, but we're a little distracted here.

Performance Most Likely to Serve as a Really Affective Lullaby: It's a Tie! Miranda Lambert and Dierks Bentley/Ed Sheeran and Elton John

Miranda's a great singer, and she looked great in her sparkly dress, but there was something so sleepy about this performance. No level of Bruce Springsteen impression from Mr. Bentley could change that. And while aesthetics aren't really the crux of a good performance, the strange tree, Lambert's endlessly sparkly dress, and Bentley's devil-may-care chic went together about as well as Chris Brown and anything we like. The best part was watching Blake Shelton's proud gaze at his pretty wife, but that could just be because it was over.

Sir Elton, you are a legend. Ed (can I call you "Eddie"?), you're an adorable British singer-songwriter. This should have been more engaging. But this rendition of Sheeran's "The A-Team" just had me wondering, "Why isn't Beyonce performing tonight?" Hell, even Elton looked bored.

Performance That Was Most Likely to Be Way Better if Adam Levine Wasn't Involved: Alicia Keys

RELATED: Taylor Swift Tries Something New: Embarrassing or Cool?

Alicia Keys, wearing a sexy dress and banging the hell out of some drums before singing "This girl is on fire" like an Amazonian battle call, would have been a highlight of the evening if it wasn't followed by the Maroon 5 frontman trying to keep up with her. The last thing Ms. Keys needs is a sidekick.

Most Straight Up Incredible Performance: It's a Tie! The Black Keys with the Preservation Hall Jazz Band/Jack White

The Black Keys are already incredible live, and that's without any elaborate set pieces or flashy costumes. But when they added the New Orleans flair of the Preservation Hall Jazz Band to "Lonely Boy" (even if they Kelly-and-Michelle-ed the horn section's volume), it made the ubiqitous song brand new and thus, even more incredible.

Jack White, you magnificent bastard. As someone who's not normally a follower of our pastey friend, I have to admit, his performance of "Love Interruption" was a thing of beauty. Plus, he did it with the help of a band of lady musicians who look like they were plucked from a Victorian Uptopia. You've got me, Jack White.



Best Redemption from a Past Performance on American Idol: Kelly Clarkson

Saying Kelly Clarkson ever wasn't perfect during a performance doesn't happen often, but when she sang "Natural Woman" on Idol, she was, well, less than perfect. But when Clarkson sang "Tennesse Waltz" for Patti Page and then "Natural Woman" as a tribute to Carole King. It was beautiful, and incredibly moving, and coming from someone as genuine as Kelly, it's a performance that's hard not to love.

Best Unadorned, Yet Perfect Performance: The Lumineers

All they did was stand together and sing "Ho Hey" with a few twinkly lights in the background. And it was perfect.

Worst Dance Moves: Carrie Underwood

For a girl who can sing the hell out of any song, especially "Blown Away," her performance blew us away for all the wrong reasons. Her vocals were great as always but the strange use of her Barbie prom dress as a movie screen for butterflies and clip art roses ruined it all. And if the light show wasn't distracting enough, the fact that there was clearly some life-size Barbie rack hidden under that dress preventing her from moving anywhere was disconcerting. If she would have just gone up there in a pretty dress and did her thing, she'd probably be remembered as one of the better performers of the night.

Best Ignored Tribute Because the Performers Aren't Mainstream Enough: Chick Corea, Stanley Clarke, and Kenny Garrett

This year, the jazz world lost Dave Brubeck, and the loss was crushing. Watching these guys deliver a sweet, simple rendition of Brubeck's "Take Five" was the perfect way to say "Thank you" to the legend, but apparently, this performance doesn't get an introduction from a pretty musical celeb. (It was so awesome, no one has yet put a video on the Internet.)

Most Surprisingly Awesome (And Not At All Annoying) Tribute From Five or More Performers: The Levon Helm Tribute

Elton John, Zac Brown, Mumford and Sons, Elton John, T Bone Burnett, Mavis Staples, and Brittany Howard from the Alabama Shakes on one stage? It sounds like a combination too overloaded to work, but when all these voices came together to deliver "The Weight," the song made famous by The Band, it was perfect harmony. Of course, Howard had to go and show everyone up (even Staples was impressed) with her too-perfect-words closing verse. Can we see an Alabama Shakes cover of the song soon, please?

Best Terrible American Idol Audition: Juanes

Dude, have you ever heard "Your Song" before? It doesn't sound like this. If this was American Idol, Nicki Minaj would be giving you a nickname, telling her she loves you boo, and sending you home to pursue other dreams.

Best Performance That Was Shorter Than a Teaser Trailer for the Actual Movie Trailer: Hunter Hayes

Dude, they give you a piano with your lyrics written all over it, and all you get to do is sing a few bars and then throw it Carrie Underwood and her technicolor dream dress?

Performance Most Likely to Make the Performer a Laughing Stock For the Foreseeable Future: LL Cool J

After Mumford and Sons were awarded their Album of the Year trophy, we were all ready to say goodnight, but LL Cool J insisted on continuing the show, like the guy who can't accept the bar is closing at 4 AM. He was still singing at the top of his lungs (or in this case, rapping) as the commercials started rolling and folks started filing out of the Staples Center. Sorry LL, but you're going to get a lot of s**t for this one.

Follow Kelsea on Twitter @KelseaStahler