'Green Card' 2? Gerard Depardieu Granted Russian Citizenship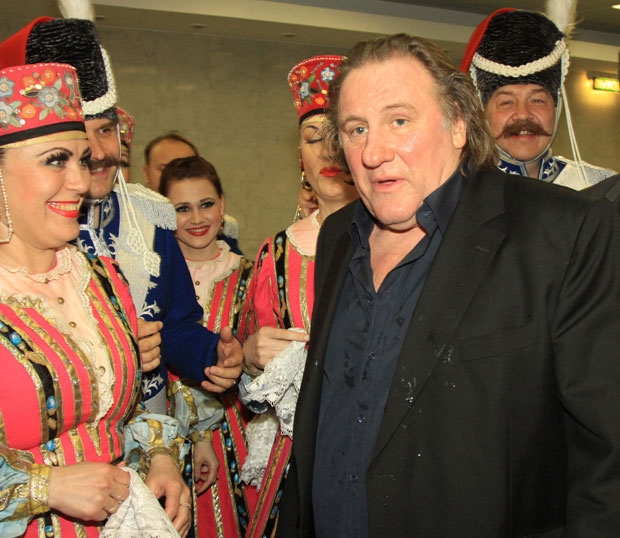 Gerard Depardieu couldn't have a more French name if he tried, but the Green Card actor and internationally renowned airplane ruiner is now a Russian citizen. According to the Associated Press, Russian President Vladimir Putin approved Depardieu's application for citizenship.
Depardieu, 64, has been upset about his native France's proposed super tax on millionaires. The Oscar-nominated actor, most recently seen stateside in Life of Pi, wrote an open letter in response to French Prime Minister Jean-Marc Ayrault calling him "pathetic" for his criticism. "I have never killed anyone, I don't think I've been unworthy, I've paid (EURO)145 million ($190 million) in taxes over 45 years. I will neither complain nor brag, but I refuse to be called `pathetic,'" he wrote.
Back in December, Putin said of Depardieu's urge to leave France, "As we say, artists are easily offended and therefore I understand the feelings of Mr. Depardieu." In short, this all has the makings of a truly awesome, completely unintelligible movie.
Speaking of movies, since Depardieu is likely packing up his bike and baguettes to leave France, will he now become a bona fide Russian star? (Watch your back, Anton Yelchin!)
If Depardieu works on his Russian accent, he too could fill the stereotypical roles of:
– Evil Super Villain: Other than Middle Easterners, no other country producers more maniacal villains hellbent on taking down action heroes quite like the Russians. (See Die Hard, Bond movies, etc.)
– Rocky Villain: The only thing better than a new Rocky movie with Rocky fighting Ivan Drago, would be a new Rocky movie with Rocky fighting Gerard Depardieu.
– The Comic Relief Who Drinks Too Much: Get it? Because of the vodka.
– Fiddler on the Roof!
-Who Cares, So Long As It's Anything That Puts Him In A Ushanka Hat.
[Photo credit: WENN]
More:
Catherine Deneuve Defends Gerard Depardieu
New Year, New Rules: Our 2013 Celebrity Behavior Contract
'Life of Pi': Does the Movie Shy Away from the Book's Darker Parts?

Jessica Alba Bikinis in Cabo — Hot Pics! (Celebuzz)