Green Day's Latest '¡Uno!': Pop Goes the Rage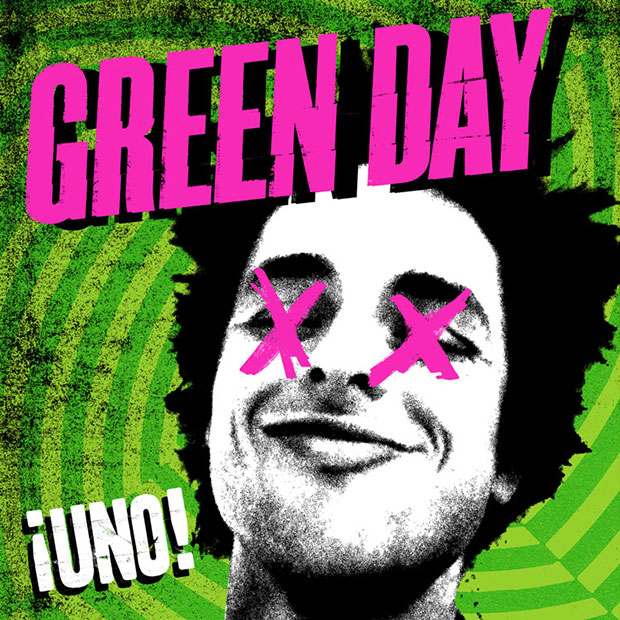 It's tough now, if not damn near impossible, to listen to Green Day's new album ¡Uno! without thinking about the band's recent turn of events. Over the weekend, frontman Billie Joe Armstrong checked himself into treatment for substance abuse following his onstage meltdown at the iHeartRadio Festival in Las Vegas. 
Armstrong let an expletive-laden rant fly after it appeared that his band's set had been cut short. ("I've been around since f**king 198- f**king- 8, and you're gonna give me one minute?! You've gotta be f**king kidding me!" he cried in the now infamous — and instantly viral — moment.) Armstrong and the rest of the band have since apologized for the incident in a statement which read that concert promoters Clear Channel hadn't cut their set and apologized to "those they offended at the iHeartRadio Festival." 
But the soundbite that will likely haunt Armstrong, Green Day, and their latest effort ¡Uno! the longest is this: "I'm not f**king Justin Bieber, you motherf**kers!" But not so fast, Billie Joe. While there's no way even the most fervent members of the "Green Day-lost-their-remaining-punk-cred-when-they-took-their-act-to-Broadway" camp would compare the rocker to the 'tween pop sensation, the radio-friendly, sleekly-produced ¡Uno! does cater more to the current mall-dwelling demographic than those who spent their youth upsetting their parents with loud, nonstop loops of Kerplunk and Dookie. 
¡Uno!, their ninth studio album, which features veritable chart toppers in the making like "Stay the Night," is by no means a bad record, though aside from all this publicity it's gotten, is a overwhelmingly forgettable one. 
Most resembling their oft forgotten about 2000 release Warning, ¡Uno! takes that album's soft punk pedigree and adds in the mainstream pop rock sound that found them wild success and Grammys with American Idiot and 21st Century Breakdown, but the message is muddled. The album kicks off with the chaos-friendly anthem "Nuclear Family" and attempts to take potshots (or, in this case, actual shots) at the status quo of mainstream music with tracks like "Kill the DJ" ("Someone kill the DJ/ Shoot the f**king DJ / Voices in my head are sayin'/ Shoot that f**ker down") it's hard to still think of Billie Joe as a "Troublemaker" when he's also he singing "Carpe Diem." 
Since 
¡Uno!
is supposed to be the first part of
a trilogy
(
¡Dos!
and
¡Tré!
are, naturally, slated to follow, though with Armstrong's well-being will hopefully come before any new records), it unfortunately feels like a piece of an unfinished puzzle. Sort of like the band itself, really. That the band they once were in the '90s has evolved into something quite different. That they aren't so much the rebels they wanted to be, but simply adapted with the times and made music that made them relevant and appealing to the masses. No, it's certainly not 198-fu**ing-8 anymore, and neither are they, but will Green Day ever be okay with that? 
¡Uno! is now available in stores and for download on iTunes. 
[Photo credit: Warner Brothers]
More: