The Great Greta Getwig Twitter Debate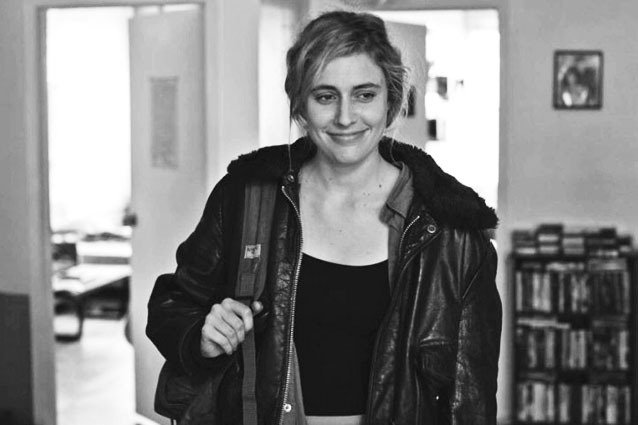 IFC Films
Tuesday night was a dangerous time to log onto Twitter. Innocent passersby would have caught flying mortar from both sides of a fresh, rapidly heating debate: a phenomenon that will be deemed by the history books Greta Grip! or How I Learned to Stop Gerwigging Out and Meet Your Dad. See, 30-year-old writer, actor, dancer, Barnard graduate, Noah Baumbach dater, Barack Obama birthday sharer, and effectual embodiment of the contemporary dreamer's existential quest Greta Gerwig was cast as the lead of CBS' groan-worthy developing spin-off series How I Met Your Dad. The shot heard 'round the world.
Just shy of nobody has been looking forward to How I Met Your Dad, obviously born from the network's mainstay How I Met Your Mother (coming to an end this March), since it was announced in the fall of 2013. On the one hand, Gerwig's involvement as its star — playing Sally, a womanchild stuck in a dead-end marriage — and possible writer, as revealed by The Hollywood Reporter, does make How I Met Your Dad inherently more appealing. On the other, many are disappointed to learn that Gerwig's future will be driven primarily by a network television sitcom that we were all ready to write off before any of this news broke. And there are plenty other hands in this fistfight. Here's a stab at a breakdown (organization-wise) of the breakdown (emotional chaos-wise) that ensued after Gerwig was announced to be CBS' new leading lady.
"We're disappointed, Greta."
Greta Gerwig in a network sitcom? A network sitcom spin-off? A network sitcom spin-off that sounds basically like the same exact show as the network sitcom off of which it is spinning? 
"We support you, Greta."
Gerwig has a right to choose whatever projects she finds interesting.
"But we want you to do other things, Greta."
This isn't coming from a place of malice, but love. We love Frances Ha, and want to see you spend your time making more movies like that, as opposed to shackled to the network machine.
"But we want you to save television, Greta."
Now that someone interesting is involved as a star and writer, maybe How I Met Your Dad won't be so bad!
"But we think you're selling out, Greta!"
(Here's where it started to get ugly.)
"But we think there's nothing wrong with making a little dough, Greta!"
With a long career ahead of you and aspirations to make creatively daring films, getting a little funding might be the best move right about now.
"But WE think the only way to maintain an output of creative integrity is to say no to the machine, Greta."
Or, if you're like Andy Kaufman, to just f**k with the network from the inside. But Greta Gerwig seems nice.
"But WE don't even think any of these people saw your movies in theaters, Greta."
Netflixing The Dish & the Spoon doesn't do her any good!
"But WE blame that on the studios' unwillingness to rely on you as a brand, Greta!"
And also, we were just really swamped cramming for finals when your last six movies were playing in theaters.
"But WE think that the public familiarity that comes with a starring role on a network sitcom is the exact way to establish yourself as a brand, Greta!"
Now our parents will know who Greta Gerwig is, and that's a good thing.
"BUT WE ARE WORRIED ABOUT YOU SUCCUMBING TO THE WHIMS OF THE SYSTEM, GRETA."
Don't be a cog!
"BUT WE RECALL A TIME WHEN YOU WERE IN MOVIES LIKE ARTHUR AND NO STRINGS ATTACHED, GRETA."
How come nobody was b**ching and moaning about that?
"BECAUSE WE DIDN'T REALLY KNOW WHO YOU WERE THEN, GRETA!"
I mean, we knew, we just didn't know.
"NEITHER DID WE. BUT TO BE HONEST, NO STRINGS ATTACHED WASN'T AS BAD AS EVERYONE SAID IT WAS, GRETA!"
It had its moments.
"WELL… WHY ARE YOU GETTING SO MAD AT US!?!"
Isn't chastising actors for disappointing choices what we do? Isn't that our thing?! Isn't open discussion about artistic pursuits the whole idea?! Isn't it a good thing that we're this passionate about someone like Greta Gerwig in the first place?! 
"ZOOEY DESCHANEL!!!"
Case in point.
Things kind of hit a wall around here, without either side giving way to the other's ideas. But in the cold light of day, we can profess: we love Greta Gerwig. We think she's talented and creative and will likely breathe new life into what could have been a very stale spin-off. But we also hope this doesn't hold her back from more interesting pursuits, preferably on the big screen. So here's waiting for the next bit of Greta Gerwig news — may it be one that we can all get behind. Or at least that she's passionate about.