'Honey Boo Boo' Parents Mama June and Sugar Bear: Just Married?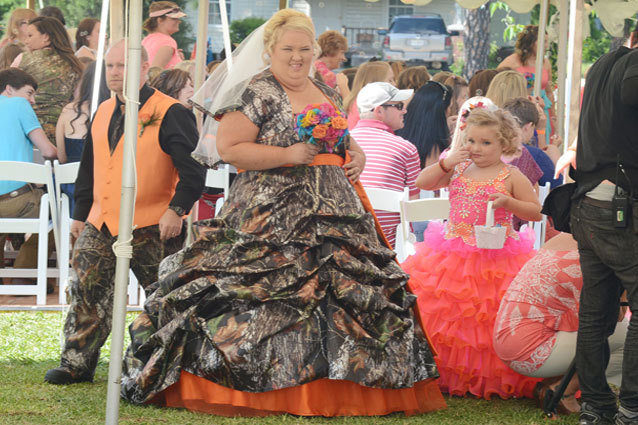 Is a Here Comes Honey Boo Boo wedding in our television future? Perhaps, as two of the TLC series' stars — coupon queen/matriarch Mama June Shannon and daddio to Alana "Honey Boo Boo/Smoochie" Thompson, Mike "Sugar Bear" Thompson — have either gotten married, recommitted themselves to each other, or just had a fancy Cinco de Mayo love ceremony/BBQ, depending on who you ask on the Internet.
I mean, the whole fiesta sure did have the trappings of a wedding-type ceremony: there were vows exchanged, a cake, the company of good friends and family, and even an oh-so elegant a camouflage gown to round out the day. According to People, the duo are mums the word as to what the party was all about, but the ever-vigilant sleuths at TMZ have obtained what they allege to be an invitation to the big day, touted as a wedding and also a "taped event," signaling that it won't be long before we see this family fart their way towards wedded bliss. No word as to whether or not the family's staple meal, Sketti, was served.
The couple have been together for nine years, after they met in an online chat room, because of course they did. Regardless, mazels all around for quite possibly the happiest/most loving family in America. Just a word to the wse: maybe don't wear that camo gown around a bunch of potentially drunk hunter types after dark. You're just asking for trouble, then, June.
What do you think of the latest Honey Boo Boo news? Sound off in the comments.
Follow Alicia Lutes on Twitter @alicialutes
More:
What Happens When Reality Bites Back at Honey Boo Boo
Honey Boo Boo's Girl Scout Cookie Scheme Gets Shut Down 
Honey Boo Boo's Most Redneckognizable Moments
---
From Our Partners:


What Happened to 33 Child Stars (Celebuzz)


40 Most Revealing See-Through Red Carpet Looks (Vh1)