11 GIFs of How 'Real Housewives of New Jersey' Teresa Giudice Is Really Feeling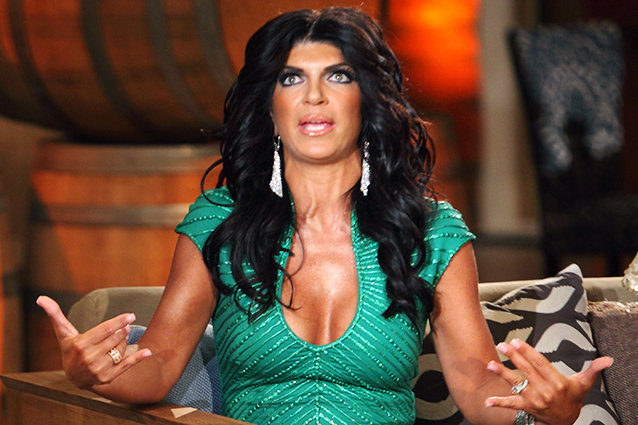 Are you kidding me?! Teresa Giudice, star of The Real Housewives of New Jersey, has appeared quite cool and collected since she and her husband, Joe Guidice, were slammed with federal charges of bank and bankruptcy fraud on Monday. Hmm… interesting behavior for someone who could face more than 50 years in prison if she's convicted. We think this Jersey girl's history of emotionally unstable outbursts proves that there's a lot more going on underdeath the shockingly calm front she's putting on. Here's what we think Tre is really feeling under all that hair: 
When she was first hit with the charges, Teresa was ready to take it. After all, she once said, "When there is an issue, I approach it and hit it head on. I speak the truth. If I do something wrong, then I own it."
But all of a sudden, it was too much too fast, like a pizza with too much sauce. 
And while she appeared to keep be "relaxed, calm, and cool like a whistle," on the outside, inside all she really wanted to do was flip a table. 
She has every right to freak out! Seven years of evidence?! That proves nothing!
The only thing anyone really has against her is where she's from. "People make fun of Jersey girls" but Teresa knows they're just jealous.
So why should this innocent mother of four children have to say sorry?
That's when Tre realized she needed a drink.
But what followed didn't exactly help her cause…
Suddenly, Teresa snapped back to reality and realized she's in really big trouble.
And then things got even worse when she learned that prison kitchens don't cook with her "fabulicious" cookbook. Her first reaction: "A meatball without sauce — is that even legal?"
Ultimately, we know there's a lot more going on underneath Teresa's tough Jersey exterior than she has yet to display. Hopefully the court will realize that she's simply a wholesome woman with needs like everyone else.
Follow Lauren On Twitter @Lopay92 | Follow Hollywood.Com On Twitter @Hollywood_com
More:
Teresa Giudice's Blog
'Real Housewives of New Jersey': The Most Epic Fights
Six Reality Television Fighting Words I Never Want to Hear Again
---
From Our Partners:


40 Most Revealing See-Through Red Carpet Looks (Vh1)


15 Stars Share Secrets of their Sex Lives (Celebuzz)