Hugh Hefner and Crystal Harris Ring in 2013 With a New Years Eve Wedding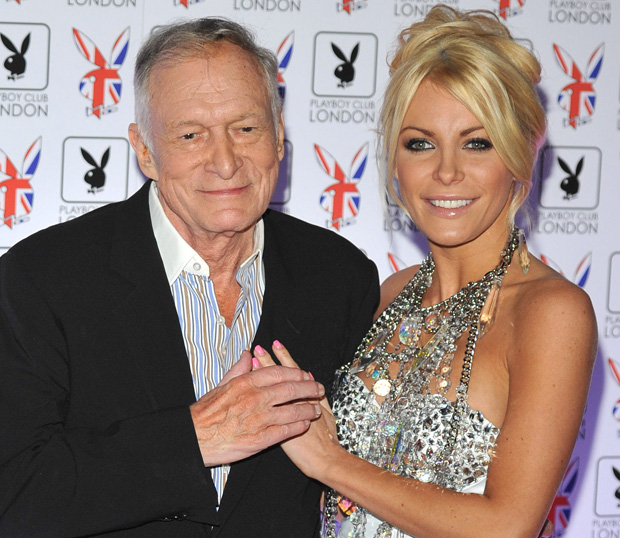 While most people would choose to celebrate the New Year with champagne and loud music, Hugh Hefner is opting for flowers and wedding bells. The 86-year-old and his on again, off again girlfriend Crystal Harris exchanged their vows at the Playboy Mansion in Beverly Hills on Monday.
The 26-year-old bride took to Twitter to announce that she is "very happy lucky and blessed" to be marrying a billionaire who is 60 years her senior. It's every little girl's dream, right?!
Today is the day I become Mrs. Hugh Hefner. Feeling very happy, lucky, and blessed.
— Crystal Hefner (@CrystalHarris) December 31, 2012
Hefner and Harris were originally supposed to wed in June 2011, but the model-turned-lingerie store owner called off the wedding a few days before the nuptials were set to take place. After living up the single life, Harris returned to the mansion in May 2012, the two reconciled, and Hefner once again put a ring on it earlier this month.
No news on what Harris' dress looks like, but we imagine there were plenty of eye rolls if the Playboy centerfold chose to wear white down the aisle.
What do you think of Hugh and Crystal's New Years Eve wedding? Does anyone else miss Holly, Bridget and Kendra? Bunny hop on down to the comments and tell us what you think!
Follow Leanne on Twitter @LeanneAguilera
[Photo Credit: Daniel Deme/WENN]
MORE:
The 15 Biggest Letdowns Of 2012
10 Reasons to Be Excited for 2013
The Worst TV Tragedy of 2012 — POLL

Kim Kardashian Is Pregnant! How Kanye Broke the Surprising News