Hugh Hefner Re-Engaged to 'Runaway Bride' Crystal Harris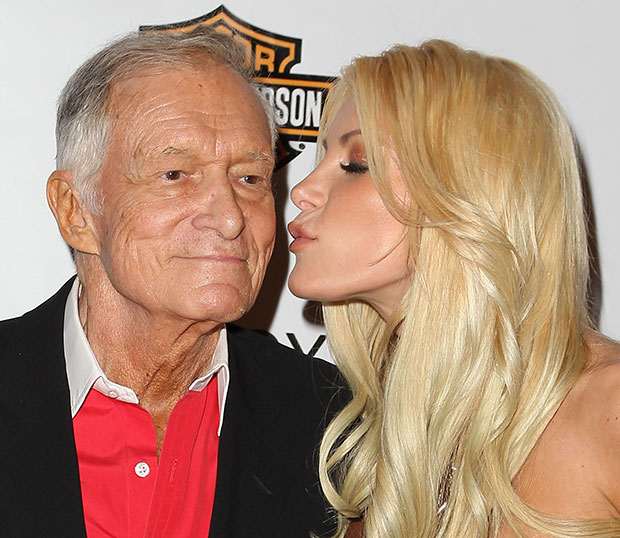 Stay in school, kids. If you do, you may just may be treated to a guest lecture by a great academic such as Hugh Hefner. And if you're really lucky, he may just give you a scoop on his personal life. According to E! News, Hefner stopped by the University of Southern California on Tuesday not to recruit new, innocent, unsuspecting coeds for his Bunny brothel, but to pontificate about pornography, or something. While lecturing at USC's Censorship in Cinema class, Hef announced that he and his current girlfriend/former fiancée were headed to the courthouse after school.
Heather Ritchie, a USC senior present during Hefner's announcement, tells E! that Hefner began his talk by saying, "Today is a special day for us because after class, we are going to the courthouse to get our marriage license." After breaking their engagement in June 2011, Hefner, 86, and Harris, 26, picked up the pieces of their shattered relationship and decided to give it the old college try in June of this year (when Harris announced on Twitter, "Yes I am his #1 girl again"). 
According to TMZ, Hefner and Harris hope to have a New Year's wedding ceremony.
Okay, you are now free to wash your eyes or flashy thing your brain (MIB-style) or do whatever needs to be done to erase the image of Hef and Harris doing — ugh, I can't even say it — from your minds.
Follow Abbey Stone on Twitter @abbeystone
[Photo Credit: Judy Eddy/WENN.com]
More:
Hugh Hefner Reunites with Runaway Bride