Hulk Hogan May Sue Website Over Sex Tape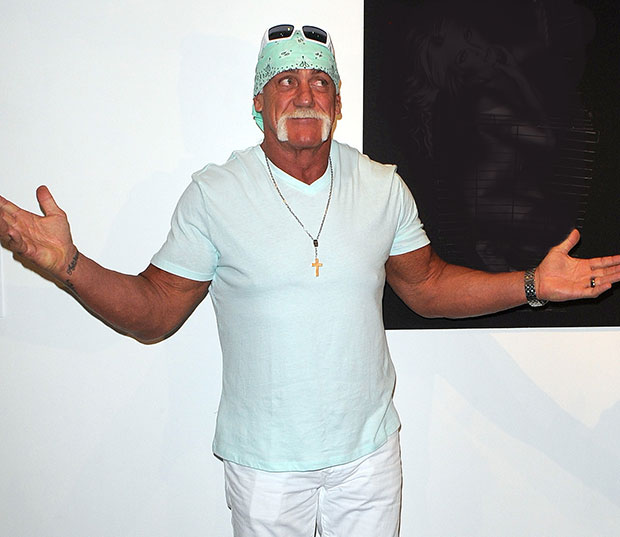 Surprise, surprise, Hulk Hogan's sex tape is coming back to haunt him. TMZ reported in March that a sex tape featuring WWE wrestler Hulk Hogan (whose real name is Terry Bollea) and a mystery brunette was being shopped to a major porn studio. Hogan's lawyer, David Houston, immediately released a statement to TMZ saying, "Terry Bollea is appalled at the unauthorized release of a secretly filmed video… We will take all necessary steps to enforce both civil and criminal liability." Fast forward seven months, and Hogan's tape — or at least a minute of it — has made its way onto the Internet.
On Thursday, Gawker uploaded a minute of the tape, the entirety of which they claim was sent to them by an anonymous source. Hogan, understandably, is not happy about his private business being made so very public. According to TMZ, Hogan and his lawyer are already hard at work on drafting a cease-and-desist letter to the site. If Gawker fails to remove the tape — or if other sites run it — Hogan will sue.
Reiterating what he said in March, Houston told TMZ on Friday, "This tape was made secretly without Hulk's knowledge or permission. We are going to do everything in our power to figure out who did it. Anyone displaying the tape will be held accountable to the fullest extent of the law." 
But Hulk, if you don't let anyone see your sex tape, how are you going to jumpstart your comeback? Don't you know that sex tapes lead to more reality shows? Just ask Kim Kardashian, her partner in crime Ray J, or Paris Hilton. While you're at it, you can talk to Kendra Wilkinson, Heidi Montag, and Tila Tequila — all of whom saw a spike in their careers when they got busy on film. Could it be that this news is all a ploy to drum up buzz before we hear a new Hulk Hogan show announced? Probably not, but I can think of stranger things. (Like this.)
Follow Abbey Stone on Twitter @abbeystone
[Photo Credit: WENN]
More:
Kim Kardashian's Ex Ray J Slams Her for Sex Tape … Again
Charlize Theron's Sex Tape Leaks — VIDEO
Oprah Wants to Know Why The Kardashians are Famous — VIDEO
From Our Partners:

Kate Upton Poses Topless for Cosmopolitan's November Issue — PHOTOS
(Celebuzz)