Weekly Highlights From Our Fave Sites: Chris Brown, Bryan Cranston, & More
If you managed to stay away from all means of communication this past week and have no idea what's up in Hollywood, look no further. From Scar-Jo as World's Sexiest Woman to Bryan Cranston on Broadway, here are the week's top stories from our favorite websites: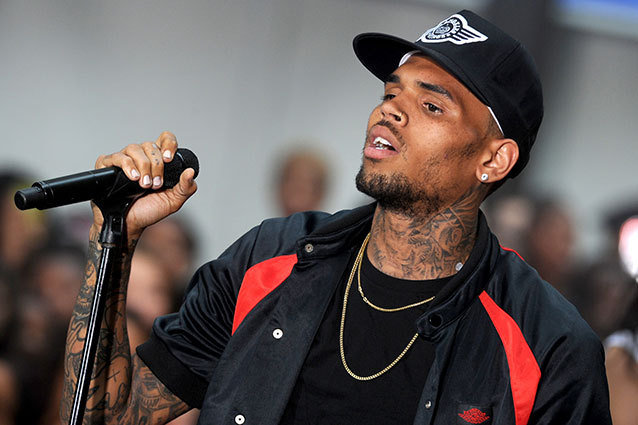 WENN
Should We Be Talking About Chris Brown's Latest Interview?
Chris Brown, whose new album X is set to drop at the beginning of December, raised some eyebrows in his published interview with the UK's The Guardian last weekend. The singer revealed that he lost his virginity at an extremely young age, and Flavorwire's Tom Hawking explores the reason behind the lack of discussion on what would normally be called sexual assault.
Could Lady Gaga Have Done Without Jeff Koons?
Lady Gaga refuses to be just another pop singer, but is her latest attempt a bit curious? ARTPOP will be released on Nov. 11 with an album cover designed by NYC-based artist Jeff Koons, but would Gaga have been better off without him? Flavorwire is wondering if her attempt at high art is missing the mark.
Bryan Cranston Confirmed for Broadway Play
Walter White is headed for the city that never sleeps! Kind of… As much as we'd all love to see Breaking Bad-gone-Broadway, it's Bryan Cranston who will be making his debut on stage as Lyndon B. Johnson later this fall in All The Way. Hollywood.com has all of the details on Cranston's latest role.
Scarlett Johansson Named Sexiest Woman Alive, Again
Seven years later and she's still got it! As if the release of her new movie isn't enough, Johansson, who can be seen in theaters alongside Joseph Gordon-Levitt in Don Jon, was once again named the Sexiest Woman Alive by Esquire. Celebuzz has the full story.