Should R. Kelly's 'Ignition' Be the New National Anthem?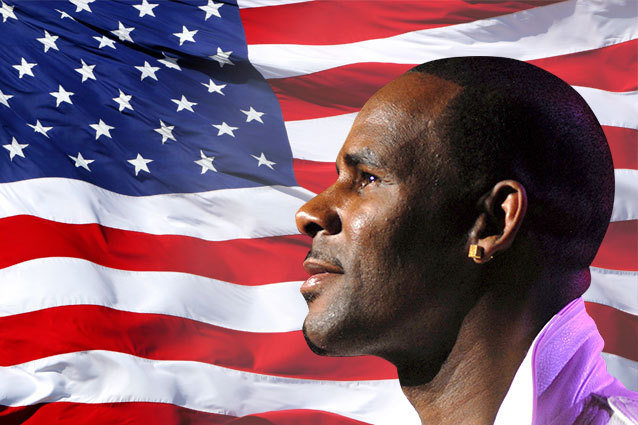 You can't pick up a right-leaning newspaper or flick on an episode of Hannity or listen to your grandfather clamor on over a bowl of stewed cabbage without being smacked with the following affirmation: this country has taken quite the dive. Yes, the good old days are far behind us — the days of Perry Como, High Noon, and expensive hats. And yearn as we might to bring our homeland to its glorious pre-ironic state, we only really have enough gigawatts of plutonium for a trip back, say, 10 years or so. Such seems to the be the motivation for the latest petition to hit the White House website: a movement to replace our current national anthem, "The Star Spangled Banner," with R. Kelly's 2003 hit "Ignition." Some big dreaming traditionalist longs to return the U.S. of A. to its golden years… and he's apparently willing to settle for a time when people still loved American Idol and hated comic book movies.
RELATED: Barack Obama's Jedi Mind Meld Causes Great Disturbance in the Force
But if we're going to propagate the efforts of this revolutionary — this free-thinking radical who'd rather bend the pulse than follow it — then we're going to need more than just some R. Kelly song. We're going to need to sweep the national identity as a whole, injecting each and every pop culture fixation of our decade-younger selves into the country's brand. So what other irrelevant bits of mainstream yore, which long-frayed fabrics from the template of 2003, can we revive for an America of which we might once again be only marginally ashamed?
New National Motto
From "In God We Trust" to "You're my boy, Blue!" It's emphatic, it's uniting, it's affectionate, and it's practically the only sentence any of your a**hole friends would say to each other for the entire year after Old School came out.
New Country Capital
From Washington D.C. to the Matrix. (Reloaded. You know, the better one.)
New Presidential Residence
From the White House to House of 1000 Corpses. That was a movie!
New Dollar Bill
From the likeness of our first president, George Washington, to that of Ali G. Ah, the good old days before Sacha Baron Cohen sung close-up numbers in impoverished France… 
New National Bird
From the Bald Eagle to the Raven. As in, That's So.
New National Beverage 
From bourbon whiskey to "Milkshake." Remember that? Remember when that was a thing? Yes. Now you do. Now you do.
The year was 2003… and the time, as we can see, was one of fortitude. A time of Luke Wilson, of teen sitcoms, of Kelis. If we work together, we can bring our country back to this eon of perfection. And the movement, as so many things are, is all thanks to R. Kelly.
Follow Michael Arbeiter on Twitter @MichaelArbeiter.
[Photo Credit: Hollywood.com Illustration]
---
From Our Partners:


40 Most Revealing See-Through Red Carpet Looks (Vh1)


15 Stars Share Secrets of their Sex Lives (Celebuzz)