EXCLUSIVE: 'Impractical Jokers' Gets Detailed On Punishment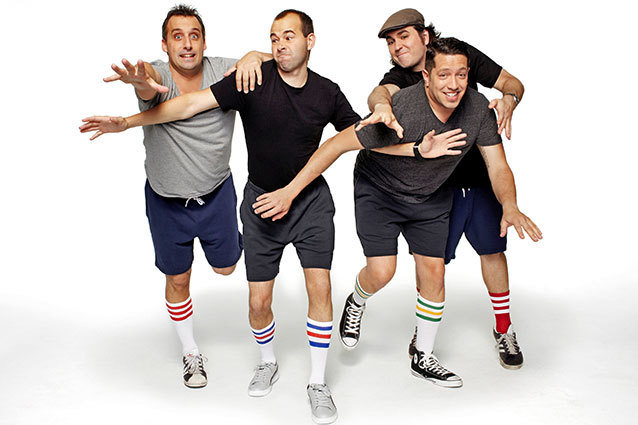 TruTV/Turner
Great talk with James Murray (or as you may know him, Murr), easily one of the funniest pranksters on TV! We chat about humiliation, touring, getting thrown out of a plane and what it's like to have a hit TV show with 3 of your best friends!
You have been doing this for years. Do you still feel embarrassed during some of the punishments? 
We get embarrassed daily!  We're not strong men, we scare easily.  The most embarrassed I've been recently was when the other Jokers made me nude model in front of a dozen strangers in an art class as they drew my naked, nude, clotheless body with no clothes on it.
You recently had Imagine Dragons on and performed a punishment on stage at their concert. Tell us about it.
We're huge fans of Imagine Dragons! It was a funny story how it all came about.  We were filming last year in Washington Square Park, and totally randomly, their manager was walking through the park with his family.  As soon as he saw us, he came up to say what big fans the band was of Impractical Jokers.  That's how we all met and became friends. So when we heard they were performing at Jones Beach, it seemed like the perfect punishment for Joe and Sal.  It was probably the coolest / scariest thing we've ever gotten to do on the show, and the band is amazing!
Speaking of big moments, can you tell us about Rosie O'Donnell pranking Q. 
We've been joking for 3 seasons now that Q looks like Rosie O'Donnell.  They really could be brother and sister.  Rosie was a fan of the show, and tweeted us about the uncanny resemblance.  A few secret tweets and phone calls later, she agreed to make a surprise guest appearance on the show to punish Q.  He had no idea that she was going to walk in the room as his twin, it was perfect! 
Favorite and least favorite punishment:
My favorite punishment was when we broke into Sal's house while he was away on vacation and seriously f**ked with his home.  My least favorite is coming up in Season 3 – the guys threw me out of a damn plane from 15,000 feet, even though I am deathly afraid of dying to death.
Do you get recognized when filming pranks? 
Sometimes, but there are so many people in NYC, that we manage it well.  In season 3, we're actually shooting a few episodes in other states, like Texas and Georgia.  It will be interesting to see what happens!
Your comedy troupe, The Tenderloins, tours all over the U.S. How is the crowd reaction?  
We love the live tour so much.  It gives us a chance to see the impact that Impractical Jokers has on people.  The fan response continues to overwhelm and amaze us – they know every line from the show, they wear Larry shirts, they make posters and chant "Let's Get Sexy".  It's awesome.
What can we expect to see on future episodes?
The punishments are getting bigger and better, we're hoping to have a few more surprise celebrity cameos this season, we'll be doing episodes this season in Texas, Atlanta and Atlantic City, and of course, lots more hilarious embarrassment for us!
The show has done very well. You have a lot of loyal viewers. What do you think draws people to it?
I think people really relate to our friendship.  We've been best friends since Freshman year of high school, know everything about each other, and love to make each other laugh.  We have so much fun making the TV show, and I think that comes across on screen.  People always say they have friends just like us.  And Joe shouting LARRY!! is just damn funny.
Craving more? 'Impractical Jokers: The Complete First Season' DVDwill be available on Nov. 26, 2013.
The DVD will include all 17 episodes from the first season as well as commentary from Q, Sal, Joe and Murr, behind-the-scenes features and deleted scenes.
For Impractical Jokers tour dates, visit their comedy troupe website www.TheTenderloins.com.