Discover the Strange But True World of Industrial Musicals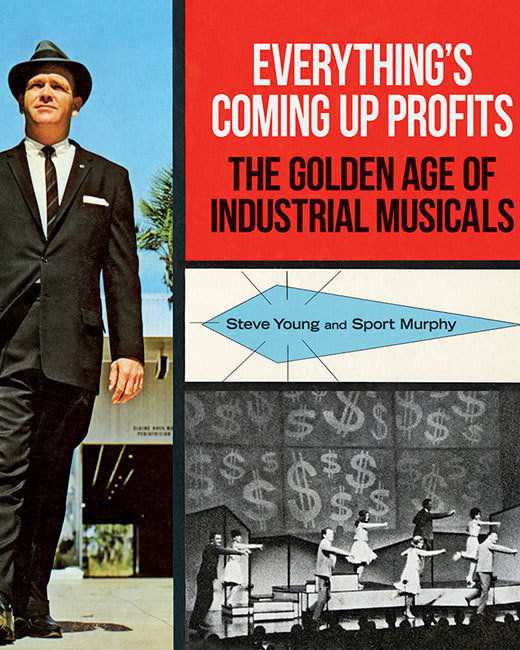 Blast Books
If you were watching The Late Show With David Letterman last Friday, you caught Dave's longtime writer Steve Young discussing a strange new book. Young and co-writer Sport Murphy — who's actually best known for the string of albums he released as a singer/songwriter on the Kill Rock Stars label — have created Everything's Coming Up Profits, a fascinating guide to the bizarre, bygone world of industrial musicals, declared "wildly entertaining" by Letterman himself.
"From the 1950s to the 1980s," explains Murphy, "American business enjoyed a sustained boom that is hard to imagine these days. Many companies commissioned, for their year-end sales conventions, elaborate Broadway-style musicals celebrating the product. These ranged from the ghastly to the grand, but there is always some level of entertaining weirdness for latter-day enthusiasts to unearth. Steve and I met about 15 or so years ago, through our mutual hobby of collecting the souvenir albums given out to the attendees at these shows. Of course, these things are rare, and fans of the genre considerably rarer, so for years Steve and I have sought some sort of outlet to share our discoveries with the wider world."
Of course, a project like this requires a multimedia approach, so Murphy and Young's website, www.industrialmusicals.com, will offer plenty of the music lovingly described in Everything's Coming Up Profits. "We'll regularly add streaming files of numbers discussed in the book, video clips, and other novelties," confirms Murphy.  
So, what do Murphy and Young want readers to take away from a book about songs like "My Bathroom" and "An Exxon Dealer's Wife?" "We initially came into it strictly at the level of camp," explains Murphy, "but initial condescension eventually mutated into love and admiration. We hope to entertain the readers with these daft relics from a lost, unknown world, but also to throw a little overdue light on the talents that created it all. These people really had the goods, no less so than any mainstream entertainers, and if the subject was toilets instead of true romance, so what? Try getting by without either."