'Sopranos' Creator David Chase's Funny, Sad, and Touching Eulogy for James Gandolfini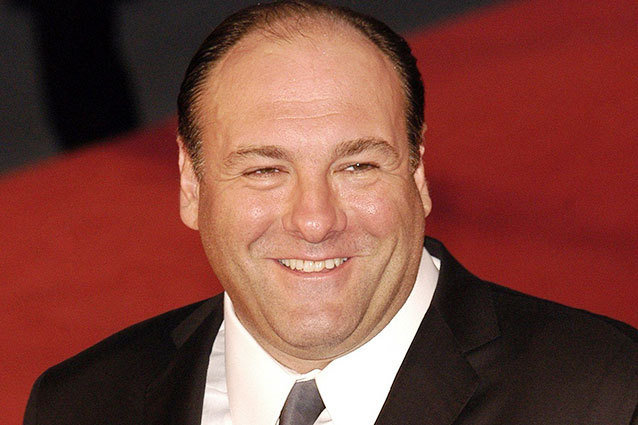 On Thursday, Sopranos creator David Chase was called to say goodbye to his muse and friend James Gandolfini, by delivering a eulogy for the man who headlined his immersive dramatic television series for six seasons. Gandolfini died suddenly last week at age 51, leaving brilliant writer Chase to, as he admits, struggle over the construction of an appropriate summation of his feelings about the man who immortalized Tony Soprano. 
Humble forewords aside, Chase managed to craft a speech that, delicately and powerfully, illustrated the kind of man Gandolfini was in his eyes and the sort of relationship the two shared. Covering the full range of the rapport between the Jersey-born men, Chase's stories ranged from funny to sad to monumentally touching.
Chase introduces his eulogy with the darkly comic, a memory about Gandolfini raining blows upon a Sopranos set refrigerator:
one day toward the end of the show — maybe season 4 or season 5 — we were on the set shooting a scene with Stevie Van Zandt, and I think the set-up was that Tony had received news of the death of someone, and it was inconvenient for him. And it said, "Tony opens the refrigerator door, closes it and he starts to speak." And the cameras rolled, and you opened the refrigerator door, and you slammed it really hard — you slammed it hard enough that it came open again. And so then you slammed it again, then it came open again. You kept slamming it and slamming it and slamming it and slamming it and went apeshit on that refrigerator. 
And the funny part for me is I remember Steven Van Zandt — because the cameras are going, we have to play this whole scene with a refrigerator door opening — I remember Steven Van Zandt standing there with his lip out, trying to figure out, "Well, what should I do? First, as Silvio, because he just ruined my refrigerator. And also as Steven the actor, because we're now going to play a scene with the refrigerator door open; people don't do that." And I remember him going over there and trying to tinker with the door and fix it, and it didn't work. And so we finally had to call cut, and we had to fix the refrigerator door, and it never really worked, because the gaffer tape showed on the refrigerator, and it was a problem all day long. And I remember you saying, "Ah, this role, this role, the places it takes me to, the things I have to do, it's so dark." And I remember telling you, "Did I tell you to destroy the refrigerator? Did it say anywhere in the script, 'Tony destroys a refrigerator'? It says 'Tony angrily shuts the refrigerator door.' That's what it says. You destroyed the fridge."
Later, following a somber memory about Gandolfini's crisis of faith, Chase delves into his understanding of the inner workings of the tirelessly complex man:
The paradox about you as a man is that I always felt personally, that with you, I was seeing a young boy. A boy about Michael's age right now. 'Cause you were very boyish. And about the age when humankind, and life on the planet are really opening up and putting on a show, really revealing themselves in all their beautiful and horrible glory. And I saw you as a boy — as a sad boy, amazed and confused and loving and amazed by all that. And that was all in your eyes. And that was why, I think, you were a great actor: because of that boy who was inside. He was a child reacting. Of course you were intelligent, but it was a child reacting, and your reactions were often childish. And by that, I mean they were pre-school, they were pre-manners, they were pre-intellect. They were just simple emotions, straight and pure. And I think your talent is that you can take in the immensity of humankind and the universe, and shine it out to the rest of us like a huge bright light. And I believe that only a pure soul, like a child, can do that really well. And that was you. 
Finally, Chase concludes his speech with a sweet, heartrending proposal for how he'd conclude "this episode," saying goodbye to James (and Tony) in the way that comes most naturally to him. And it really hits home:
You know, everybody knows that we always ended an episode with a song. That was kind of like me and the writers letting the real geniuses do the heavy lifting: Bruce, and Mick and Keith, and Howling Wolf and a bunch of them. So if this was an episode, it would end with a song. And the song, as far as I'm concerned, would be Joan Osborne's "(What If God Was) One Of Us?" And the set-up for this — we never did this, and you never even heard this — is that Tony was somehow lost in the Meadowlands. He didn't have his car, and his wallet, and his car keys. I forget how he got there — there was some kind of a scrape — but he had nothing in his pocket but some change. He didn't have his guys with him, he didn't have his gun. And so mob boss Tony Soprano had to be one of the working stiffs, getting in line for the bus. And the way we were going to film it, he was going to get on the bus, and the lyric that would've one over that would've been — and we don't have Joan Osborne to sing it:
If God had a face
What would it look like?
And would you want to see
If seeing meant you had to believe?
And yeah, yeah, God is great.
Yeah, yeah, God is good.
Yeah, yeah, yeah.
So Tony would get on the bus, and he would sit there, and the bus would pull out in this big billow of diesel smoke. And then the key lyric would come on, and it was
What if God was one of us?
Just a slob like one of us?
Just a stranger on the bus
Trying to make his way home.
And that would've been playing over your face, Jimmy. But then — and this is where it gets kind of strange — now I would have to update, because of the events of the last week. And I would let the song play further, and the lyrics would be
Just trying to make his way home
Like a holy rollin' stone
Back up to Heaven all alone
Nobody callin' on the phone
'Cept for the Pope, maybe, in Rome.
We thank Alan Sepinwall at HitFix for transcribing the eulogy. You can read Chase's full speech here.
Follow Michael Arbeiter on Twitter @MichaelArbeiter | Follow hollywood.com on Twitter @hollywood_com
More:
James Gandolfini's 12 Best Roles
'The Sopranos': The Best Show of All Time
James Gandolfini's Best 'Sopranos' Moments
---
From Our Partners


Stars Pose Naked for 'Allure' (Celebuzz)


20 Grisliest TV Deaths of 2012-2013 (Vulture)