Jay-Z's New Album 'Magna Carta Holy Grail' Announced During Samsung Comercial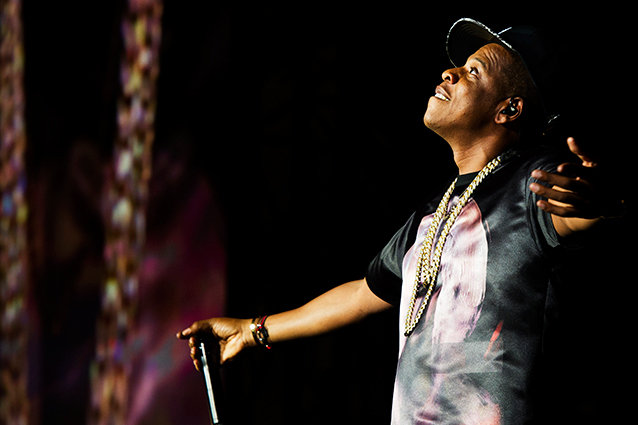 You could practically feel the heat rising off the court during Sunday night's NBA finals face-off between the San Antonion Spurs and the Miami Heat — but during halftime, all eyes were on Jay-Z. Jay-Z stole three minutes of airtime during the game to announce the release of his new record Magna Carta Holy Grail… in a meandering Samsung ad. 
In the commercial, we see Jay's head nodding away while he tests out some beats in the studio. Speakers blow out, but that doesn't stop Jay's rap flow one bit. The ad even shows collaborators Pharell, Timbaland, and Swizz Beatz working alongside Jay in the studio while churning out the upcoming album. Jay-Z says of his artistic process, "The album is about, like this duality of how do you naviage through this whole thing — through success, through failures, through all this — and remain yourself." So insightful! The album title's big reveal comes at the end of the ad with a cut to black and the URL MagnaCartaHolyGrail.com flashed across the screen. 
Although you would think it would be intriguing to watch Jay in his element, the dull-colored, lengthy commercial would've been a heckuva lot more entertaining if his wife Beyoncé was thrown into the mix — she always knows how to make things a bit more Bootylicious. Watch the commercial below:
And you know how things are always better when they're free? Well, Jay-Z has a free treat for Samsung Galaxy Smartphone owners. Galaxy phone owners can download an app on June 24th that will grant the first 1 million downlanders free (yes, free!) access to Magna Carta Holy Grail 72 hours before its official release. (For you math experts, you download the app on June 24, but you won't have access to the album for a few more days.)
Considering basically everyone in this century has an iPhone, Jay-Z's upcoming album will be released to the rest of the world on July 4th. So patriotic of you, Mr. Carter! 
Follow Cori on Twitter @gimmegimmeCOR
Follow Hollywood.com on Twitter @Hollywood_com 
More:
Kanye West & Jay-Z Debut 'No Church In The Wild' – VIDEO 
Beyonce and Jay-Z Spend $1 Million for Nursery Inside Basketball Arena
Jay-Z To Score 'The Great Gatsby'
---
From Our Partners


Stars Pose Naked for 'Allure' (Celebuzz)


Which Game of Thrones Actor Looks Least Like His Character? (Vulture)