Ouch! Jean-Claude Van Damme Nearly Split in Half in Viral Volvo Commercial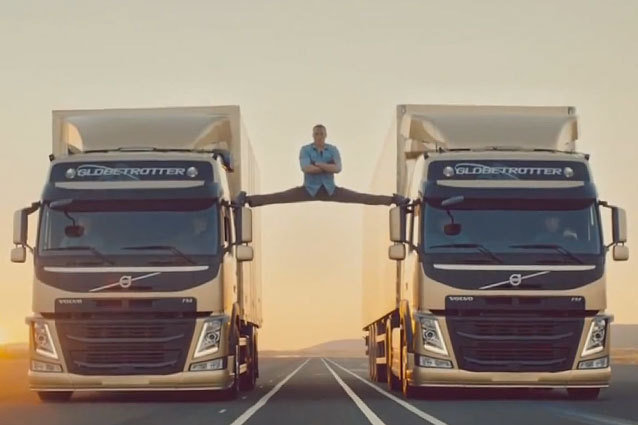 The Auto Channel/YouTube
Action star Jean-Claude Van Damme is the star of a new viral video that has sky-rocketed to over 9 million views in less than two days. The marketing gurus at Volvo Trucks filmed the actor performing one of his famous splits in way that has never been seen before in a video they call, "The Epic Split."
"I've had my ups and downs," the Muscles from Brussels says as he begins his voiceover with the camera squarely focused on the 53-year-old actor's face. "My fair share of bumpy roads and heavy winds. That's what made me what I am today. Now I stand here before you. What you see is a body crafted to perfection." 
The camera pulls back to reveal that Van Damme's feet is firmly planted on the rear-view mirrors of two semi-trucks that are heading in reverse."A pair of legs engineered to defy the laws of physics," continues Van Damme, "and a mindset to master to the most epic of splits." Then, the two trucks slowly begin to separate, forcing the actor to perform one of his signature splits that he's done in his movies such as Bloodsport. Epic indeed!
Whether you believe the video is a fake or that Van Damme actually pushed the two trucks apart with his massively powerful legs, the video has nonetheless been a very successful marketing ploy. Here is a teaser video released just before the debut of "The Epic Split" showing Volvo Trucks technician Jan-Inge Svensson explaining to Van Damme what they have in store for him.
The look of doubt and disbelief on Van Damme's face is certainly understandable, but it looks like it all paid off! What did you think of Volvo and JCVD's "The Epic Split"? Share your thoughts below!