Jennifer Lawrence is America's Darling: Can Her Charm Nab Her the Oscar?
The clouds have parted and a glorious light, in the form of one Jennifer Lawrence, has descended from above to unite Hollywood (and all the world) in one perfect, steadfast belief. Finally, everyone — Republicans and Democrats, cat people and dog people, glamorous movie stars and the rat-faced people of television — can agree on something: Jennifer Lawrence is amazing.
Nary a magazine interview, a late show appearance, an awards show acceptance speech goes by without lauding her myriad talents: her wit, her humility, her photogenicness (photogenecy?), or her acting ability. Lawrence is the total package, and we can't get enough.
RELATED: Jennifer Lawrence on 'SNL': How'd She Do?
In the past 10 days alone, Lawrence has hosted SNL, survived pneumonia, and thanked MTV's My Super Sweet Sixteen for inducting her into the Screen Actor's Guild. In the past month, she's told tales of staving off home intruders with her Hunger Games archery skills, and proudly proclaimed "I beat Meryl!" (Okay, so that one was more allusion than declaration.) And in the past year, she has defended her appearance and her weight countless times. Have we ever had a Hollywood starlet more real? More down-to-earth? More genuinely charming? Probably. But in 2013, we love us some Jennifer Lawrence.
RELATED: Jennifer Lawrence: 'You Can't Offend Meryl Streep'
And the industry, it's clear, is loving Jennifer, too. For her performance in Silver Linings Playbook, Lawrence has already picked up the Golden Globe, the Critics Choice Award, and the SAG Award (to name a few). Only the Big Kahuna, the Oscar, looms on her horizon. Lawrence was nominated for an Oscar once before, in 2011 for Winter's Bone. 
Sadly, she was bested by Natalie Portman. But that was 2011, when Lawrence was still a year away from becoming America's Sweetheart. The Hunger Games, X-Men: First Class, and a Vanity Fair cover all laid before her. In 2011, Lawrence was just a girl in a smokin' red Calvin Klein dress. Natalie Portman, however, was having a baby.
RELATED: Jennifer Lawrence Talks About Her Weight, Again
In the race for Best Actress in a Leading Role, the Academy loves to honor women who are having "a year." Women who are garnering praise for their personal lives as well as their performances.
Women who may have once been prime for high school crushes and rom-com leads, but were finally given some Oscar-worthy material. Think: Sandra Bullock, Kate Winslet, Reese Witherspoon, Hilary Swank, Charlize Theron, Gwyneth Paltrow. Sure, all of the above are immensely talented women, but did Bullock really give a better performance than Helen Mirren in The Last Station or Gabourey Sidibe in Precious? Was Natalie Portman in Black Swan really better than Michelle Williams in Blue Valentine or Annette Bening in The Kids Are All Right?
While these questions will surely be debated at dinner parties for years to come, it's clear these ladies made more headlines and talk show appearances in their respective winning years than their competition did.
And now, we have Lawrence. In this year's Oscar battle she is faced with worthy foes in Jessica Chastain, Emmanuelle Riva, Quvenzhané Wallis, and Naomi Watts. Of these four, the only one to rival Lawrence in media frenzy is Chastain. But, let's be honest, Chastain's "year" — the year in which she appeared in every other film and grabbed hold of America's heartstrings — was really last year.
So, if the media (and let's be honest, the Internet) has anything to say about it, the Academy Award should be Lawrence's for the taking. Lawrence's talent is laid bare in each of her performances (award-nominated as well as not), but if you need further convincing of her charm, take a gander at her first professional acting job below. The girl is clearly exceptional. 
Follow Abbey Stone on Twitter @abbeystone
[Photo Credit: Christopher Polk/Getty Images for BFCA]
---
Oscars 2013 Special Coverage
---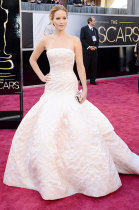 Oscars 2013 Best Dressed: PICS!
• Anne Hathaway: Oscar's Worst Dressed?
• Seth MacFarlane's Opening: How'd He Do?
• Adele's Performance Gets Mixed Reviews
• 15 Oscar-Winning Nude Scenes
• What Happened to Renee Zellweger's Face?
• Oscars 2013: The Full Winners List
• The Winner, According to You
---
From Our Partners:


40 Most Revealing See-Through Red Carpet Looks (Vh1)


33 Child Stars: Where Are They Now? (Celebuzz)