Jennifer Lawrence Talks About Her Weight, Again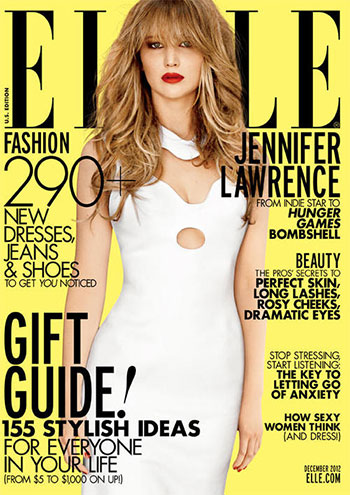 Jennifer Lawrence is a beautiful woman. She's young — can you believe she's still only 22? — she's blonde (usually), and she's got a killer hourglass figure. Anyone who can see knows that she is one of the most gorgeous women in Hollywood (or like, anywhere). And yet, you rarely see Lawrence's name in a headline without a comment about her weight attached. The most recent culprit: Elle magazine.
Lawrence graces the cover of Elle's December issue clad in a body-skimming white dress — one that clearly shows off her teeny tiny waist and toned arms. The girl is obviously in great shape. And yet, inside the magazine's flawless cover Lawrence is quoted as saying, "In Hollywood, I'm obese … I'm considered a fat actress. I'm Val Kilmer in that one picture on the beach," Entertainment Weekly reports. Really, Jen? Obese? So you don't have a stick thin Karlie Kloss or Taylor Swift body — so what?
Lawrence, the good role model that she is, goes on to say, "I'm never going to starve myself for a part… I don't want little girls to be like, 'Oh, I want to look like Katniss, so I'm going to skip dinner.' That's something I was really conscious of during training, when you're trying to get your body to look exactly right. I was trying to get my body to look fit and strong — not thin and underfed."
This is good. This is great, actually. Lawrence is acknowledging that being fit and strong is far more important than being thin, and she is one of the best examples we have today (along with Scarlett Johansson and Christina Hendricks) that boobs and a great derrière remain the sexiest of assets. But, while it is beyond commendable that Lawrence points out how anorexic-seeming body types can be detrimental to young girls, her choice to call herself fat — even in a sarcastic manner — is a poor one. Words can so easily be taken out of context and turned into triggers. Lawrence is making it too easy for a young girl to come across the headline "Hunger Games Star Calls Herself Fat," and then decide that someone Lawrence's size is considered "obese."
But of course the real trouble here is the media (per usual). Why can't this poor young lady get through an interview without someone asking her about her figure? Not only is it completely off topic and irrelevant for a promising, Oscar-worthy actress to be constantly talking about her appearance (let alone her dress-size) but it is no longer even relevant. While Lawrence may have once, if you squinted your eyes really tight and tilted your head to the side a bit, looked like she possessed a "normal person" body, Elle's new cover shows that Lawrence is just as svelte as all the other skinny mini starlets. She might as well be Jennifer Aniston on the cover of Vogue or Kate Upton on the cover of Sport's Illustrated.
At 22, Lawrence has lost any lingering adolescent extra whatever she may have had when she burst onto the scene. While her amazing curves are still in tact, she is one slender lady. But really, we all know that this is beside the point. Everyone has decided that Lawrence's weight is an okay topic of conversation, and so that seems to be all we hear about her. I recommend she and other gorgeous stars follow Christina Hendricks' lead and decide to stop talking about their bodies altogether. Then maybe, finally, the media will stop asking about it.
Follow Abbey Stone on Twitter @abbeystone
[Photo Credit: Elle]
More:
Karl Lagerfeld Apologizes For Calling Adele 'Fat'
Jennifer Lawrence refuses to diet for film roles
Kelly Osbourne Claims She Was Never As Fat As Christina Aguilera
---
You Might Also Like:


15 Oscar-Winning Nude Scenes


Topanga's Revealing Lingerie Shoot: Hello '90s!