Jim Carrey Ridicules Gun Supporters, Charlton Heston In Scathing Funny Or Die Clip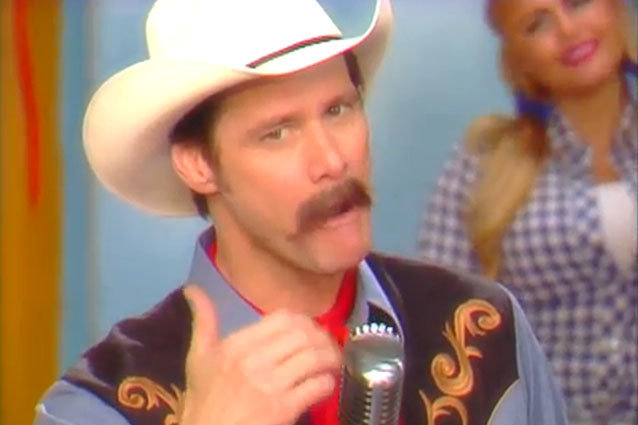 Jim Carrey hasn't been shy about sharing his thoughts on guns in America lately and his new Funny or Die clip "Cold Dead Hand" is the eyebrow-raising culmination of all those very strong feelings. 
RELATED: Jim Carrey Steals the Show in the Otherwise Lackluster 'The Incredible Burt Wonderstone' 
The actor/comedian — who has been teasing the video on Twitter over the past few days along with his own commentary on gun control ("The important question is 'Do we possess guns in America or do guns possess us?'" was among one of his tweets) — said in a press release,  "I find the gun problem frustrating and 'Cold Dead Hand' is my fun little way of expressing that frustration." On Twitter, however, he put it a little more bluntly: "Cold Dead Hand' is abt u heartless motherf%ckers unwilling 2 bend 4 the safety of our kids.Sorry if you're offended…" [sic.]
RELATED: Jim Carrey on the Set of 'Kick-Ass 2' — PHOTOS 
If Carrey wasn't clear enough on Twitter about his gun control message, the scathing and oft very funny social commentary in "Cold Dead Hand" makes it crystal. The 51-year-old star does what he does best here with some spot-on impressions — including (clearly) Sam Elliott and the late actor/outspoken gun advocate Charlton Heston, who infamously made that "Cold dead hands" NRA speech in 2000, of which this song parodies — on a send-up of the '70s variety show Hee-Haw. (Among one of the lyrics is one line about Heston himself that goes, "The angels wouldn't take him up to heaven like he planned, cause they couldn't pry that gun from his cold dead hand.")
RELATED: Jim Carrey Banking on New Heist Film 'Loomis Fargo' 
Carrey also plays the front man for a fictitious band called Lonesome Earl and the Clutterbusters, which is backed by beacons of anti-violence and peace Gandhi, Lincoln, and Lennon (played by 90s band The Eels). Now, whether or not "Cold Dead Hand" makes you tap your toes, laugh along with the biting social satire, raise your fist in solidarity, or if it just pushes your buttons that someone starring in the upcoming Kick-Ass 2 is taking aim at others on the topic of violence… well, that's your right to express that feeling. 
Watch Carrey's video below and sing along to the scathing song ("On the ones, who sell the guns … Only the devil's true devotees could profiteer from pain and fear") on iTunes: 
[Photo credit: Funny or Die]
---
You Might Also Like:


15 Oscar-Winning Nude Scenes


10 Insane 'Star Wars' Moments You Didn't Notice