Jimi Hendrix's New Album Reminds Us Some Music Should Stay Unreleased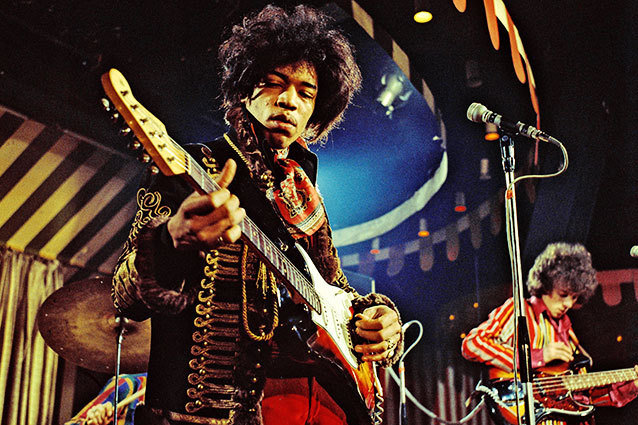 If there's anything the music industry loves more than a wildly successful artist — it's one who can be easily exploited post-mortem to rake in the obsessives' hard-earned dollar bills. So it's no surprise that creative powerhouse Jimi Hendrix has had yet another album put out featuring the b-sides, rarities, and musical doodads. This one — titled People, Hell & Angels — is just another instance of the music industry putting dollars ahead of sense; releasing music that the artists themselves probably didn't want digested by the public. Hence the whole "previously unreleased" thing.
This, of course, got us thinking about how popular this formula has become to the industry: any time an influential artist passes away, it opens the floodgates for rereleases, reissues, commemorative editions, demos, b-sides, and all those tunes left on the cutting room floor. Which, it turns out, is often with good reason! Some things may actually be better left unheard — whether you're a fan or otherwise — because they end up hurting the artist's image rather than helping. And while People, Hell & Angels is certainly far from terrible, it does feel like either the Hendrix estate (or his record label, or both) were just looking for another way to cash in on his legacy. But they're not the only ones. Check out some posthumously-released tracks that we feel do a bit more of a disservice than otherwise, below.
RELATED: Ladies Save the Music Industry
Jimi Hendrix: "Hey Gypsy Boy"
An unsually sad and winding song from Hendrix feels like something the singer believed had potential, but wasn't totally as it's peak. It's a dream not yet realized. It isn't a bad song by any means, but it certainly doesn't add anything to our impression of him as a creative musical mastermind.
Whitney Houston: "Never Give Up"
This song is a melodic mess. Houston's vocals aren't as strong as they used to be, and coupled with Jermaine Dupri's awful rap intro, pathetically trivial lyrics, and general production quality guaranteed that this song would be a certified disasterpiece.
The Beatles: "Free As a Bird"
To even call this a Beatles' tune feels wrong, as it's more of a novelty mash-up than anything else. The song, originally written by John Lennon in 1977, was really just a combination of contributions from Paul, George, and Ringo. The only reason the song was released as a single in 1995 was to coincide with The Beatles Anthology. 
Tupac Shakur : "The Power of A Smile" (featuring Bone Thugz 'n' Harmony)
Tupac seems to have a new album come out every six minutes. So obviously his estate (and label) are staunch supporters of the "give fans everything and the kitchen sink regardless of quality" mentality. And so, not one but two (!!) albums of celebrities reading Shakur's poetry were released: The Rose That Grew From Concrete and The Rose, Vol. 2. This song is just one of many that had us wondering: do we really need to hear this? Really?
RELATED: Is it OK to Like Chris Brown's Music?
Nirvana: "Verse Chorus Verse (The Boombox Rehearsals)"
Let's be real: Nirvana is an aggressive listening experience. But there's no arguing that Nevermind is one of the greatest albums to come out in the last 30 years. So when they released the box sets to coincide with the album's anniversary, many begged the question: do fans really want or need a boombox demo with poor production quality? Certainly doesn't make Kurt Cobain & Co.'s work all that fun to put on the headphones.
Michael Jackson: "Song Groove (aka Abortion Papers)"
I don't need to say anything about this song because IT IS A SONG ABOUT ABORTION and that's all you need to know.
RELATED: Why Can't We Admit Frank Ocean's Performance Was Bad?
What do you think of the new Hendrix album (and posthumous releases in general)? Forget any truly heinous songs? Let us know in the comments!
Follow Alicia On Twitter @Alicialutes
[Photo Credit: Mark Sharrat/Rex USA]
---
From Our Partners:


40 Most Revealing See-Through Red Carpet Looks (Vh1)


15 Stars Share Secrets of their Sex Lives (Celebuzz)