Joan Rivers: Always Controversial, Always Funny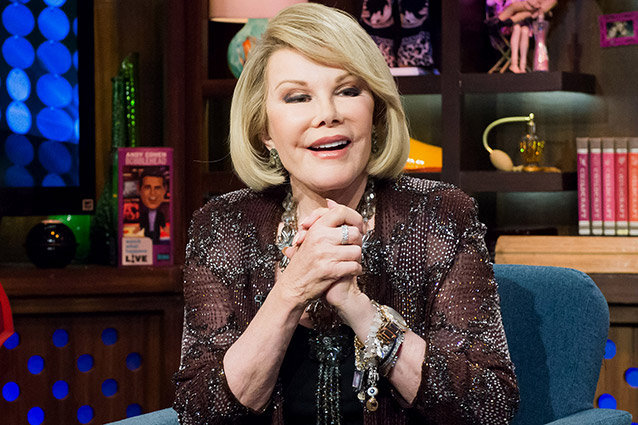 Bravo Media via Getty Images
Odds have it that you've been put off by Joan Rivers at one point or another. Just a few weeks back, before health problems took way for the 81-year-old comedian, a good chunk of society took umbrage with a her expression of antipathy for the Palestinian civilians killed in a military attack. Throughout her years in film, television, the stage, and every red carpet we can remember, Rivers has taken heat for a wide variety of jokes that the world deemed too crass, insensitive, or otherwise politically incorrect. But Joan, who believed in comedy above all else — whose principal devotion was not to any one individual, group, or political leaning, but to the very idea of the laugh — never let up.
Rivers must have understood that this was the kind of attitude — no, ideology —necessary to weather the challenges of starting a career in the boys' club that was the comedy world of the 1960s… hell, that remains the comedy world to this day. But the vigor with which Rivers established herself was wholly important for not only the future of women in comedy, but for the very idea of comedy altogether.
This bravado demanded that her targets be indiscriminate: she'd mock individuals as beloved as Elizabeth Taylor and Adele, mine comedy from events as sensitive as the Holocaust and the Ariel Castro kidnappings. With each new "crossing of the line," as it were, Rivers would face more and more backlash. Rivers carried through in the face of professional setbacks — like the cold shoulder of Johnny Carson (after she accepted a television series opposite The Tonight Show) and 18-year-long banishment from the late night institution where she got her start — as well as personal tragedy, notably the suicide of her husband Edgar Rosenberg. Throughout all, Rivers entrenched herself in comedy and vice versa, proving often that she was her favorite thing to make fun of.
It is unlikely that Rivers, an active force in comedy for more than half a century and riddled with tenacity up to the end of her life, didn't offend each of us at one time. While her legions of watchers and listeners might hold true to the ideals of sensitivity, compassion, and courtesy — all perfectly legitimate values, in fact — Rivers' allegiance was to one thing only, and she held true to this maxim without a hiccup. Whether it was a conscious decision to remain strong and convicted in the face of adversity, attack, and the relentless erosions of life, or simply the nature of the acerbic and cunning Brooklynite, Rivers wore the philosophy like a glove: making people laugh is what she was here for. And she sure as hell made sure to do it.