Joe Biden vs. Paul Ryan: Funniest Tweets About the Vice President Face-Off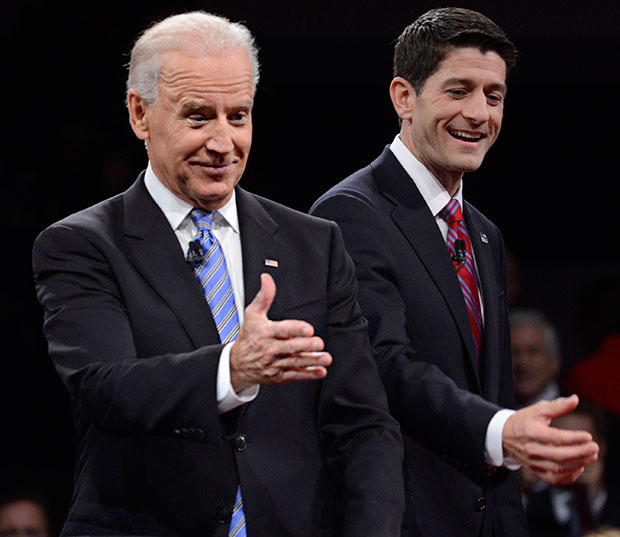 They say there are three things you should never talk about: religion, money, and politics. But no one said you can't talk about politicians.
Thank goodness too — because after last night's vice presidential debate, there is much to talk about. And even more to laugh about. Here are the funniest Twitter jokes aimed at Congressman Paul Ryan and current VP, Joe Biden.
Hello 9 1 1? There s an old man beating a child on my tv
— Bill Maher (@billmaher) October 12, 2012
"Malarkey" was my favorite Mutant Ninja Turtle, by the way.#debate
— Patton Oswalt (@pattonoswalt) October 12, 2012
I feel like I'm watching a real housewife reunion as I watch the debate –
— Caroline Manzo(@CarolineManzo) October 12, 2012
Biden and Ryan could never work together as synchronized swimmers.#VPDebate
— Kevin Nealon (@kevin_nealon) October 12, 2012
This poor kid debating Biden!!! His flag pin is shiny though!
— Andy Cohen (@BravoAndy) October 12, 2012
Ryan: Did you order the code red? Biden: You're Goddamn right I did!!#VPdebate
— Dane Cook (@DaneCook) October 12, 2012
Paul's Ryan hair looks like his mom smoothed it down with her wet palm.
— Michael Ian Black (@michaelianblack) October 12, 2012
How great would it be if @joebiden had said "you're an idiot & have no idea what you're talking about" instead of saying malarkey?
— Bethenny Frankel (@Bethenny) October 12, 2012
Joe, you're killin' me!!!!!@saturdaynightlive is going to have a field day!
— Bette Midler (@BetteMidler) October 12, 2012
BREAKING: Post debate results just in… Ryan now at 6% body fat, 94% water.
— Michael Moore (@MMFlint) October 12, 2012
whoever is using "My Friend" as the key word for the #DebateDrinkingGame should be DRIZZUNK right about now.
— Questo of The Roots (@questlove) October 12, 2012
[Image Credit: AP Images]
More:
10 Things You Didn't Know about Paul Ryan
What's 'Trouble With the Curve' About? Clint Eastwood Explains the Plot to The Chair