Justin Timberlake Has Contracted the Funk on Two New Tracks — VIDEO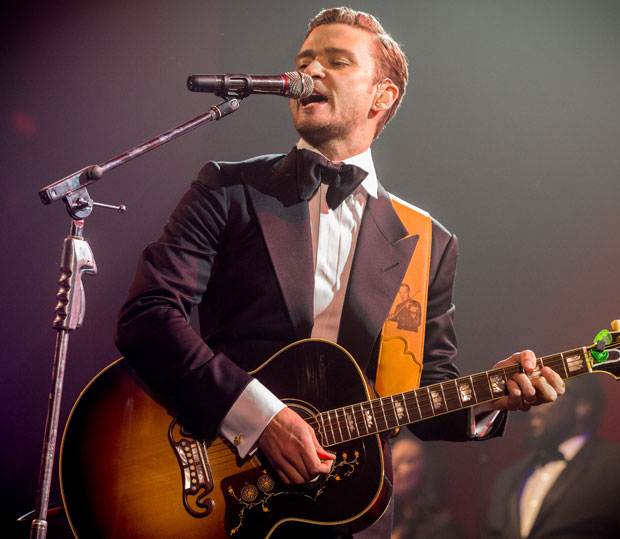 Dear Justin Timberlake,
Yes. Thank you! Finally! At last! You're back! And we like you, we really, really like you! And we believe in you! Thanks for bringing it for real this time.
Sincerely,
The Rest of the Universe
If you couldn't tell, we've heard the latest songs to be performed off the upcoming 20/20 Experience, and we're breathing a sigh of relief with a wiggle in our groove. Justin Timberlake is back, y'all. For real this time. And we're all for having a bit more of the musical side of Timberlake out in the world — especially when the two new tracks prove to be a vast improvement on his first single, "Suit and Tie."
The unveiling came at a DirecTV-fronted bash Saturday night in New Orleans in advance of the Super Bowl. Because if you're going to do anything in the month of February, it better be done at the big game. (Serious question: if a musical moment occurs outside of the Super Bowl, and no one is around to hear it — because why would they if it wasn't at the Super Bowl? — does it make a sound?) Mark Cuban's AXS TV hosted the fête, and saw Timberlake perform several of his older hits as well as the new tracks "Pusher Love Girl," (some folks are calling this "Push Your Love" or "Little Pusher Love Girl") and "Bad Girl" (that some are also calling "That Girl").
The first tune hits all the right old-school R&B notes with a hint of Prince that feels fresh and soulful. "Bad Girl" slows down the funky soul that sounds like it'll be a running theme throughout the whole record. Ain't nobody mad at that as long as you keep up being so swoonworthy, Justin. Speaking of — there were no dust on his smooth moves, as dance breaks during "Señorita" and a revamped version of Michael Jackson's "Shake Your Body Down To The Ground," proved. Timberlake even noted at one point that he was "shoveling the funk." Sounds like somebody got ahold of a funky ball of tits from outer-space while on hiatus song song-making.
Check out the two new songs, below!
As if those two new tunes weren't reason enough to declare the night a momentous one, Jay-Z took to the stage before the night finished so the two men could perform "Suit and Tie" together (for the first time!).
Not to be outdone, of course, Timberlake continued his quest for total Super Bowl Weekend domination (there is still a game and halftime show today, you guys), and brought out longtime collaborator Timbaland so the two could perform the night's closer, "Sexy/Back." And sexyback he is, that Timberlake. At long last! Never leave us like this again, Justin.
What do you think of Timberlake's newest tracks? Let us know in the comments!
[Photo Credit: Christopher Polk/Getty Images ]
Follow Alicia on Twitter @alicialutes
More:
Justin Timberlake's New Song 'Suit & Tie' is a Cacophony of Sound — LISTEN
Justin Timberlake to Take the Stage Super Bowl Weekend
Happy Birthday, Justin Timberlake! Consider These 32 (Totally Selfish) Birthday Wishes

Oops, Britney Spears Goes Braless Again — PHOTOS (Celebuzz)

30 Hottest Lingerie Scenes From the Past 30 Years — PHOTOS (Celebuzz)