Kaley Cuoco Wants More Attention and You Should Give It to Her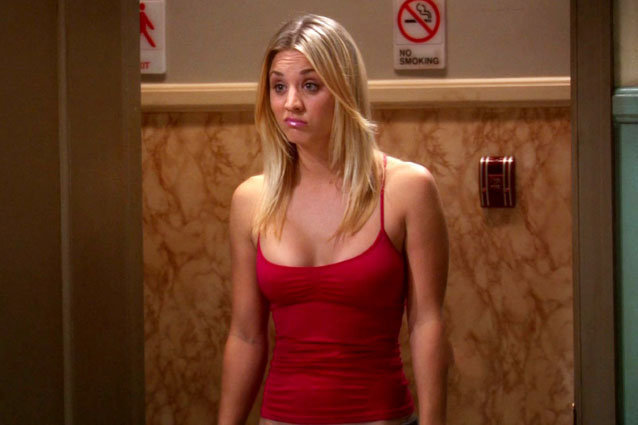 CBS Broadcasting
Kaley Cuoco has seemingly been everywhere recently. Since showing up last fall unexpectedly on The Voice while her sister auditioned, The Big Bang Theory's resident hot girl has been chatting up reporters, even landing on the cover of Cosmopolitan, dishing openly about everything from her wedding to professional tennis player Ryan Sweeting to her breast implants. Then there are her Instagram posts, which have featured Cuoco showing off the tattoo that she got in honor of her nuptials (the Roman numeral equivalent of the date), her new shorter haircut, and her stunning bikini-clad body.
It's not as though Cuoco has been averse to publicity before this. She's been in the public eye going back to when she was 17 and playing the late John Ritter's too-sexy daughter on 8 Simple Rules. She's also never been shy about showing some skin; beyond just the skimpy outfits her character Penny wears on Big Bang, the actress has done multiple cover shoots for Maxim. Something about this recent wave feels different, however.
With a guarantee of three more seasons of her sitcom in place, Cuoco appears to be making a play for a larger role in the public's mind and to keep from being known only as "Penny." In today's world, one way to compete with the Kardashian and Jenner sisters — not to mention Miley Cyrus, Katy Perry, Lady Gaga, etc. — is to put more of your personal life out for public consumption.  In Cuoco's case, she's earned the right to take some chances and see if they pay off.
Over the course of her run on Big Bang, Cuoco has taken the character from being a one-note joke — the hot girl across the hall — and turned her into a three-dimensional person. She's infused her character with a funny mixture that's equal parts brashness and low self-esteem. Instead of just being the "normal" person reacting to the geniuses, we've gotten to see Penny deal with insecurities at being the non-college graduate amongst a group of Ph.Ds. Cuoco's comedic timing has improved nearly every season since the beginning of the show… with her at some point taking on somewhat of a Dean Martin persona, looking for a drink to help smooth out the rough edges.
What the actress hasn't been able to do so far, though, is make that translate into something more than being a star on TV's top rated sitcom. A lot of her recent publicity push has been in support of Authors Anonymous, a low-budget comedy costarring Chris Klein (American Pie). Her biggest on-screen success thus far has been a supporting role in the kiddie flick Hop, where she didn't even get to play the female lead (she played a secondary character, James Marsden's sister).
Despite the solid work on Big Bang, Cuoco's career hasn't exactly progressed at lightning speed. Her next project, The Wedding Ringer, puts her alongside Kevin Hart — never a bad thing — but it still places her squarely in a supporting role.
Cuoco comes across in interviews as funny and down-to-earth. She's not obnoxious about what she chooses to share about herself and it's hard to find anyone that begrudges her success. If putting her life (and body) front and center in the jostling for media attention leads to the actress being offered better film roles, then more power to her. Few others have paid their dues as long as she has for the opportunity.