Kardashian Family Christmas Card: Is that the Dead Cat?! and 4 Other Questions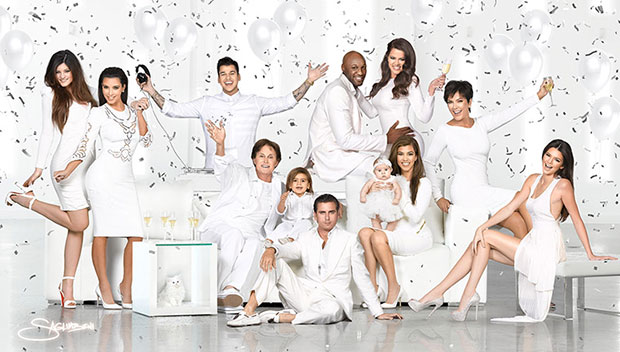 This wasn't quite what we meant when we said we were dreaming of a white Christmas. Not to be outdone by Chuck Lorre, the Kardashian family has released their annual holiday card, which takes on a far more joyful tune than previous years, despite the presence of dearly departed kitten, Mercy. But since we can't ever expect any, er, mercy from the Kardashians' omnipresence, we'll accept their holiday greetings — but only if they answer the following questions:
1. Let's address the elephant in the room — or, rather, the cat: Was this picture taken prior to Mercy's passing? Or have taxidermy animals become the new Hollywood lap dog? If so, can TLC make a show about it?
2. The other elephant not in the room: We see Kris Jenner, Bruce Jenner, Kim Kardashian, Khloe Kardashian, Kourtney Kardashian, Rob Kardashian, Scott Disick, Mason Disick, Penelope Disick, Lamar Odom, Kris Jenner, and Kendall Jenner, but where's André Kanye?
3. Why is Scott Disick the family focal point? And when will the Kardashians break the news to him that this is not a J. Crew ad?
4. Don't the Kardashians know that scarecrows should be saved for the family Halloween card?
5. Why can't I look away?
[Image Credit: Nick Saglimbeni]
More:
Kim Kardashian in Bahrain and Nine Other Celebs Who Wore Out Their Welcomes
Kim Kardashian Prepares for Motherhood by Freezing Her Eggs
Kim Kardashian and Kanye West Skip the VMAs: Where Were They?

'A Few Good Men': Where Are They Now?