Keanu Reeves on 'Man of Tai Chi', "Sad Keanu" Memes, and Stargazing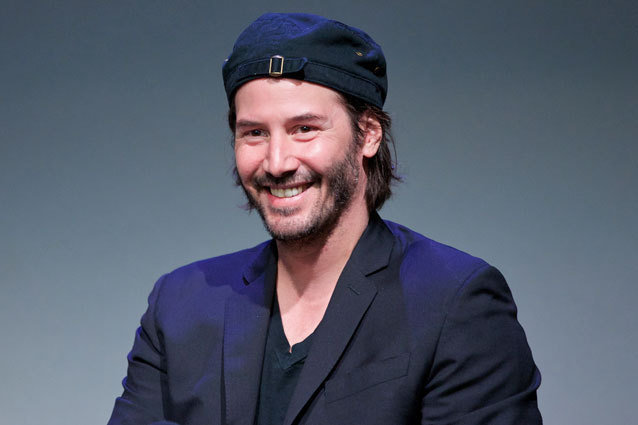 Alberto Reyes/WENN
In his Reddit AMA, Keanu Reeves was gracious, verbose, and formal. He discussed his new movies 47 Ronin and Man of Tai Chi,
which is his directorial debut. He also listed some of his favorite things, which all seemed fitting for the famously morose actor. Read some of the best answers from the AMA here. 
A little-known fun fact: 
"For a long time in Los Angeles when I first moved there, when I was 20 years old, it was such a new world and so I saw some guys at a gas station once who had hockey equipment in their car, and I asked them what they were doing, and they said they were playing street hockey, so I asked them if I could play. So I became involved in a street hockey game that took place every weekend for over 10 years, every weekend, red versus black. We would take holidays off and sometimes summers, but the game was going on for over 10 years. That was cool to be a part of. It was a cool thing to have happen. Made some friends."
On filming 47 Ronin: 
"You know, shooting 47 Ronin was a great experience. It's a story that is very special and close to the Japanese actors, and I could feel that and respected that during the course of the filmmaking. And it brought another element to the filming, it heightened it even more than it usually is. Which was great."
Props he's kept from his movies: 
"I think I have a coat from the first Matrix. I have the sword from Hamlet, I kept a lot of working scripts, I have the jersey from The Replacements, I've got Constantine's lighter and watch, I have Bill & Ted's shorts (Ted's shorts), I used to have the leather jacket from My Own Private Idaho but I gave that to a friend. And I think that's it."
His reaction to being asked about his favorite movies: 
"AAAAAAAAHHHHHHHHHHHHHHHH!!!!!!!!!! Here's some: Taxi Driver, Apocalypse Now, A Clockwork Orange, Stroszek."
On the memes devoted to him:
"My first experience with that was Sad Keanu, and I thought it was funny!"
On the Sad Keanu picture: 
"I think that a picture can tell a thousand words, and none of them can be right. Or true. I'm absolutely a very happy person."
His favorite books: 
"Where do I begin? Here are some. As a kid, we can start with the Count of Monte Christo. We could start with the Lord of the Rings. Then we could get into finding as a teenager getting into Fyodor Dostoyevsky's The Idiot, Notes from Underground, The Brothers Karamazov, we could get into Jim Thompson, we could go into some William Gibson, then we could do In Search of Lost Time by Proust. And then just getting into the works of Philip K. Dick and recently I was reading Don Delillo, Cosmopolis, I like Updike's the Rabbit Series."
On stargazing: 
"I believe the other night we had an eclipse of the moon! Which was cool. In the cities, I wish you could see more of the stars, but I always love when I'm in places where you can see that blanket, that twirling, twinkling. That is one of my favorite things."
On his lifestyle: 
"You know, I've been very fortunate in my life. Which I am grateful for. And I guess it's just to my tastes to keep life as simple as I can."
On air guitar: 
"You know, I'm not an air guitar afficionado. But once in a while, the air guitar comes out. Especially when you first hear (especially for me) that chord or that moment in the song when the electric guitar cuts in, or blazes out, once in a while you just got to strum all those strings in the air."
His favorite form of martial arts: 
"You know, I love all martial arts. I don't practice any particular form or style, but yeah, I don't have a favorite…But it was great during the making of Man of Tai Chi, to spend time with the leading man Tiger, who has studied Tai Chi since he was a kid, and it was great to talk about how we could bring some of the ideas of Tai Chi into the story of Man of Tai Chi, and some of the philosophies."
What he's been listening to: 
"The music I'm listening to right now? Let's see, I just got the new Nine Inch Nails recording. I really like this other band Metz, just got their first album which was great. And I've been listening to a song that I really like from LCD Soundsystem, and the song is 'Someone Great.'"
On Bill and Ted: 
"Working on Bill & Ted was certainly an excellent adventure. I love those characters. I love the spirit of the film. I like the eternal goodness of these characters. I always thought of them as beautiful fools. They bring a wonder and naivete to the harsh realities of the world. I found them fun to play, and also working with Alex Winter was a great experience. We shared the same view of these characters and the film, and we had a lot of laughs making those movies. And Alex and I are friends."
Read the rest of Keanu's interview here.