Kelly Rowland Shakes Things Up For Spring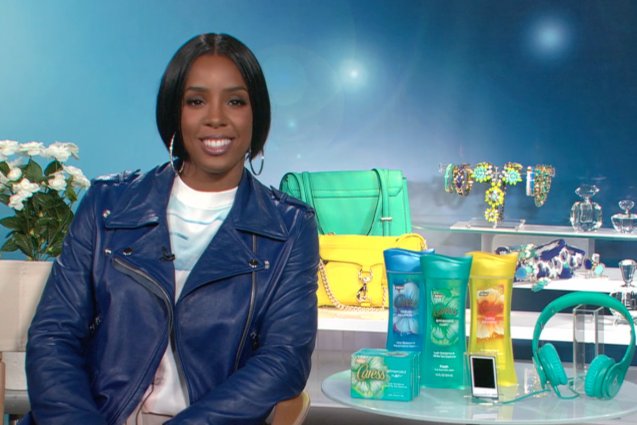 Caress® Fresh Collection
Kelly Rowland sits down with Hollywood.com and discusses style, music and being chosen by Caress as their 2014 Fabulista. Caress teams up with the former Destiny's Child member, former X Factor judge and force of nature all her own to be the spokesperson for their fresh fine fragrance body wash and beauty bars. And Kelly is certainly a good choice – she's always looking like a fresh beauty.
Check out our video interview where the beautiful songstress chats about music and style advice:
Kelly's loving working with Caress because of everything the campaign stands for. Kelly tells us the campaign is all about "daring to be different, and me inspiring women and other women inspiring me as well to enjoy everyday experiences in a fresh, new way."
And Kelly certainly has some fresh, new experiences going on in her life right now. She recently got engaged to her manager Tim Witherspoon. Being engaged suits Kelly well – she simply glowed during our interview. She also debuts a sleek new bob haircut for our interview – personally, we think she's one of the few who looks great with either long or short hair. Lucky girl.
Her beauty and style advice to all of us out there: "Change things up a bit. Shake it up. Change the workout, change the lip color." Kelly is all about a pink lip for spring. "It's all about taking a risk."
Kelly's currently working on her fifth solo album. We're so obsessed with her solo hits, like "Commander," and "Motivation" – which are regulars on our workout playlist rotation – and can't wait to hear her new material. And if she's taken any cue from BFF Beyoncé's surprise album release, Kelly's new album won't be without shock value. Kelly tells us this upcoming album will be inspired by women, her life, and "the queens." The women who have inspired Kelly more than anyone else musically, and who she sweetly refers to as her "queens," include Whitney Houston, Mariah Carey and Aretha Franklin.
Kelly is an inspiration all her own. She knows how to make songs that make us dance and always look fabulous while doing it. Her secret? She knows who she is, she's confident with it, and she motivates other women to do the same. This woman is a true inspiration. Go to Facebook.com/Caress for prizes, giveaways and more fun behind the scenes footage of this fabulista. #CaressMe