Discussing Lindsay Lohan's Performance on '2 Broke Girls'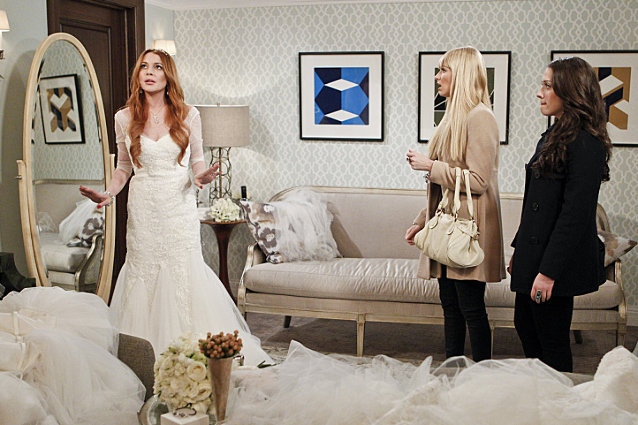 CBS
Lindsay Lohan's return to TV added a lot of stress to the two main characters on 2 Broke Girls. Lohan guest starred as Claire, an indecisive bride to be, who suddenly turned Max (Kat Dennings) and Caroline's (Beth Behrs) cupcake business into one that would make a big, flashy wedding cake. Never mind that neither knew how to make wedding cakes.   
Throughout the episode, Claire changes her mind about what sort of cake she wanted, causing a lot of stress for the girls and their business. Despite her numerous run-ins with the law and history hard partying, Lohan is still a skilled actress, one who fits in well on a comedy. 2 Broke Girls is a flexible show; characters shine for a variety of reasons, whether they utter funny one-liners, perform physical gags or behave randomly. Lohan wasn't outstanding in her role, but she wasn't poor.
After all this time, Lohan still has a screen presence. She's no longer the teenage girl who must bank on the ingenue roles that started her career. No, Lohan has graduated to a thespian who can hold her own despite being out of practice for a while. Her 2 Broke Girls performance was just a small sample of what she is capable of. Lohan delivered her lines with purpose, well, at least as much as one can when your character can't make up her mind. (Claire wanted a cake that was traditional, then old school, then hipster, then spring-theme, then colorful…)
Maybe TV isn't such a bad idea for Lohan. There are many opportunities so if the big screen is unforgiving, guest stints and maybe something juicy on HBO, Showtime or Netflix are just around the corner. LiLo's career isn't dead, but a little mouth-to-mouth on the small screen wouldn't hurt.