Lindsay Lohan: 'New York Times' Piece Is the Best Thing That's Happened to Her in Years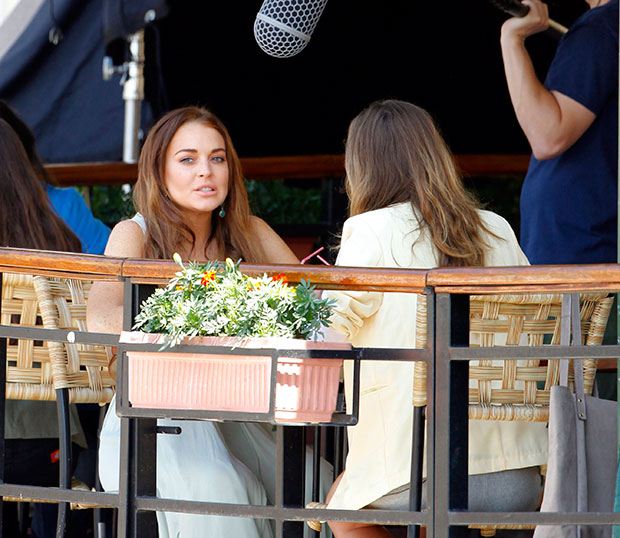 Following New York Times Magazine's publication of Stephen Rodrick's phenomenal "Here Is What Happens When You Cast Lindsay Lohan in Your Movie," Google News was overrun with headlines even more negative than the Times article itself. "Lindsay Lohan Is Awful to Work With." "Lindsay Lohan — Tales of Drunken, Crying Debauchery on Movie Set." "Lindsay Lohan Was Drinking and Driving, Popping Pills During The Canyons Filming." The list would continue — between tales of the actress' frequent emotional breakdowns (crying outside director Paul Schrader's hotel room for 90 minutes), professional mishaps (failing to show up to set on numerous occasions), and possibly illegal activity (driving while under the influence of alcohol) on the set of Paul Schrader's The Canyons, editors had plenty of content to choose from.
Yet, with all the focus on Lohan's well-reported problems, editors and pop culture fans are missing the bottom line of Rodrick's article: The piece is the best thing that's happened to Lindsay Lohan in years.
It might not seem that way at first. After all, after reading the piece, an understandable course of action for any producer or director courting Lohan would be to fly to the opposite end of the world faster than you can say "an eavesdropping Dina Lohan." But while Rodrick's story presented Lohan as a immature nightmare whose behavior only got worse after she was fired, it also proved that the actress is a Hollywood figure as fascinating as she is shrewd. Lohan is no spoiled Hollywood princess famous for being famous — she's a scrappy manipulator who knows the system as well as the "f**k u" on the back of her hand.
Take this choice excerpt from Rodrick's article:
Lohan suggested shooting the scene at the Grove, a tony West Hollywood shopping center.
"Look, we can shoot at the Grove, and we can get it for free."
Pope looked at her with confusion.
"We'll have 'Access Hollywood' pay for it. They'll film it, I'll answer three questions about the movie and then they'll pay for it. It's really easy."
Pope and Schrader were unconvinced. But Lohan was insistent as she left the room.
"They'll do it. You just have to know how to work it."Or this portion of the piece, showcasing Lohan's relationship with the paparazzi:
Over at the mall, Schrader paced nervously. "We need to get three shots, and we're not going to get a second chance." He was worried about attracting the attention of mall security. An hour later, Lohan arrived in her black Porsche trailed by four or five paparazzi. Schrader threw up his hands and said, "That's it."
Lohan told him, politely, to shut up.
"Paul, we can do this."
She climbed out of her car and turned to the photographers.
"I'll make a deal with you. I'll give you a good shot, but then you have to go." Lohan turned to her good side and hiked her floor-length skirt up to show a little leg.
"O.K., five, four, three, two, one. Now you have to go."It's tidbits like these that elevate Lohan past the desperate Sean Young status she's enjoyed since her first DUI arrest in 2007. Of course, Lohan isn't someone to feel sorry for or someone to root for — she has participated in heinous illegal activity. But, now, following Rodrick's article, she's someone to invest in. After all, Lohan's story in 8,000 words turned out to be more interesting than Norma Desmond, Vicki Lester, and Neely O'Hara's combined. She's terrible. She's irrational. She's incorrigible. But she's brilliant. And, as she herself has said, she's a fighter — for better or for worse. (Okay, mostly worse.) 
And now we can't help but be strapped in, waiting to find out whether Lohan will get a TKO or tap out in the next round. There's no denying whatever little curiosity you had about The Canyons prior to reading Rodrick's article has since increased tenfold. (Heck, you might actually see it.) And there's no denying that, while reading the piece, you finally cared about Lindsay Lohan. And that's a feeling no Tonight Show interview, Lifetime movie, or Playboy spread could invite.
Thanks to Rodrick's article, for the first time in years, we're not looking back, fondly remembering the days Lohan charmed us in critically acclaimed fare like The Parent Trap and Mean Girls. Instead, pop culture fans actually want to see what happens next in Lohan's life. And that's the best thing that could ever happen to her. Well, besides normalcy, of course.
[Image Credit: Kmm-Sasha-Jack-RS/X17online]
More:
All the Insane Things Lindsay Lohan Did on the Set of Bret Easton Ellis' 'The Canyons'
Lindsay Lohan Makes Her Foray Into Porn in 'The Canyons' Trailer
Lindsay Lohan Keeps Finding Work, Lands Pat in Bret Easton Ellis' 'The Canyons'