Predicting the Best Supporting Actress Oscar: Jennifer Lawrence vs. Lupita Nyong'o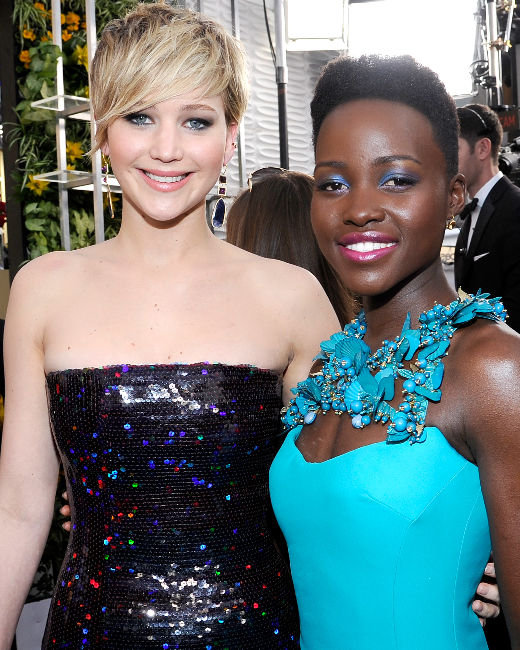 Kevork Djansezian/Getty Images
There are only a few days left until the 2014 Academy Awards, so most of our predictions are solidified by now. But even though Cate Blanchett appears to be a lock for Best Actress and Alfonso Cuaron has the highest odds of winning Best Director, there's still one race that's impossible to guess: Best Supporting Actress. The two candidates who could snag the trophy are Lupita Nyong'o for her work in  12 Years a Slave and Jennifer Lawrence for her performance in American Hustle. 
Normally, we could just rely on the previous awards shows to help influence our predictions. Blanchett and Cuaron have both swept their categories, as have Matthew McConaughey and Jared Leto (who we think will take Best Actor and Best Supporting Actor, respectively). But Lawrence and Nyong'o have split the opinions of the various awards organizations, which means the Oscar is still anyone's game. In an attempt to solve this problem once and for all and help you solidify your Oscar pool, we've taken a look back at all of the women who have won Best Supporting Actress in order to see if we could use the winners of yesteryear to determine who will walk home with the trophy on Oscar night. 
Major Precursor Awards Won: 2 (for each)
Lawrence won both the Golden Globe and the BAFTA for her role as Rosalyn Rosenfeld, while Nyong'o picked up the Critic's Choice Award and the Screen Actor's Guild Award for playing the slave girl Patsey. 
Actresses 25 and Under Who Won Best Supporting Actress: 8
If Lawrence, who at 23 is the youngest actress to earn 3 Oscar nominations, were to take home the award on Sunday, she would join a list of young winners that includes Tatum O'Neal, Patty Duke, Goldie Hawn, Anna Paquin, Jennifer Hudson, Angelina Jolie, Teresa Wright, and Anne Baxter.
Actresses Between 25 and 30 Who Won Best Supporting Actress: 13
At 30, Nyong'o would be in good company as a Best Supporting Actress winner, as Shirley Jones, Mary Steenburgen, Marisa Tomei, Mira Sorvino, Miyoshi Umecki, Gloria Grahame, Kim Hunter, Sandy Dennis, Rita Moreno, Eva Marie Saint, Anne Hathaway, Meryl Streep and Celeste Holm also took home an Oscar around the same age. 
Best Supporting Actress Winners Who Won for Their First Performance: 9
It's hard to believe that 12 Years a Slave is Nyong'o's first feature film, but she's not the only actress to impress the Academy with her debut perfomance: Katina Paxinou, Mercedes McCambridge, Eva Marie Saint, Jo Van Fleet, Tatum O'Neal, Goldie Hawn, Miyoshi Umecki,  Anna Paquin, and Jennifer Hudson all stunned on their first try. 
Actresses Who Won Best Supporting Actress After Winning Best Actress: 3 
After winning for Silver Lining's Playbook at last year's awards, Lawrence would join an elite club of women who topped their Best Actress win with a Best Supporting Actress trophy. : Helen Hayes, who won Best Actress for her work in The Sin of Madelon Claudet in 1931 and Best Supporting Actress for Airport in 1970, Ingrid Bergman, who took home Best Actress for Gaslight in 1944 and Anastasia in 1956 then won Best Supporting Actress in 1974 for Murder on the Orient Express, and Maggie Smith, who was awarded Best Actress for The Prime of Miss Jean Brodie 1969 and followed it up with Best Supporting Actress for California Suite 1978.
Best Supporting Actress Winners Who Won on Their First Nomination: 51
The Best Supporting Actress category has been particularly kind to newcomers, with 51 actresses who have taken home gold on their first nomination (a fact that bodes well for Nyong'o). If she wins, she would be added to the long list that includes Gale Sondergaard, Hattie McDaniel, Jane Darwell, Mary Astor, Katina Paxinou, Ethel Barrymore, Anne Baxter, Celeste Holm, Mercedes McCambridge, Josephine Hull, Kim Hunter, Donna Reed, Eva Marie Saint, Jo Van Fleet, Dorothy Malone, Miyoshi Umecki, Shirley Jones, Rita Moreno, Patty Duke, Margaret Rutherford, Lila Kedrova, Sandy Dennis, Estelle Parsons, Goldie Hawn, Cloris Leachmann, Tatum O'Neal, Beatrice Straight,  Mary Steenburgen, Jessica Lange,  Linda Hunt, Peggy Ashcroft, Anjelica Huston, Dianne Wiest, Olympia Dukakis, Geena Davis, Brenda Fricker, Mercedes Ruehl, Marisa Tomei, Anna Paquin, Mira Sorvino, Juliette Binoche, Kim Basinger, Angelina Jolie, Marcia Gay Harden, Jennifer Connolly, Catherine Zeta-Jones, Rachel Weisz, Jennifer Hudson, Tilda Swinton, Mo'Nique, and Octavia Spencer. 
Actresses Who Have Won Best Supporting Actress for a Comedic Role: 7
Although the Academy tends to favor dramatic performances, the Supporting Actor and Actress categories often reward more comedic roles, like Lawrence's. If she wins, she would join the seven other women who laughed their way to an Oscar: Josephine Hull for Harvey, Goldie Hawn for Cactus Flower, Maggie Smith for California Suite, Olympia Dukakis for Moonstruck, Marisa Tomei for My Cousin Vinny, Mira Sorvino for Mighty Aphrodite, and Penelope Cruz for Vicky Cristina Barcelona. 
Actresses Who Have Won Best Supporting Actress Winners For Playing Servants: 3
Although Nyong'o would be the first Best Supporting Actress winner to win for portraying a slave, three women have previously won for playing servants: Gale Sondergaard, Hattie McDaniel, and Octavia Spencer. 
Actresses Who Have Won Best Supporting Actress for Playing the Wife of the Lead: 7
Before Rosalyn Rosenfeld came along to "inspire" her husband Iriving, there were countless other wives who played a key role in their husband's stories, and seven actresses won an Oscar for playing them: Mary Astor, Kim Hunter, Gloria Grahame, Jennifer Connolly, Rachel Weisz, Meryl Streep, and Mary Steenburgen. 
Black Women Who Have Won Best Supporting Actress: 4
If Nyong'o takes home the Oscar on Sunday, she will become only the fifth black woman to win Best Supporting Actress, and just the sixth black woman to win an acting Oscar overall. The previous Best Supporting Actress winners are Hattie McDaniel, Whoopi Goldberg, Mo'Nique, and Octavia Spencer, while Halle Berry is the lone black Best Actress winner. 
Actresses Who Have Won Best Supporting Actress for Playing a Character with a New York Accent: 2
Whether you love Lawrence's accent in American Hustle or it makes you want to stab yourself in the ears, there's no denying that the New York accent is a tricky one to pull off. Only two women have done it well enough to earn an Oscar: Marisa Tomei as the wise-cracking fianceè of the title character in My Cousin Vinny and Olympia Dukakis as Cher's mother in Moonstruck. 
Our Prediction: Lupita Nyong'o 
Despite being evenly matched, we think that the combination of 12 Years a Slave being Nyong'o's film debut, as well as her first nomination will help swing the votes in her favor, as the Academy has proven that there's nothing it loves more than an impressive breakthrough performance. Plus, she deserves it, and we have to believe that there is some semblance of justice left in this world.