Where Is Malala Yousafzai on Barbara Walters' 'Most Fascinating People' List?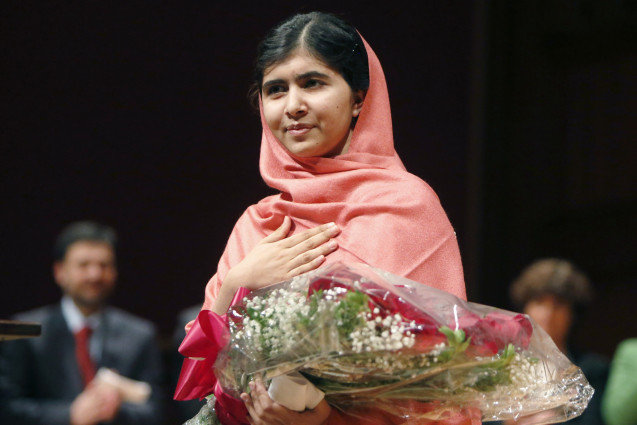 Bizu/WENN
After weeks of speculation, Barbara Walters revealed her choice for the Most Fascinating Person of 2013 — and in fact, of the last 20 years — is former First Lady and Secretary of State Hillary Clinton. In the interview, which aired on Wednesday as part of Walters' Most Fascinating People special, Clinton talked about her decision to step away from the public eye, her desire to leave a legacy of "integrity and service," and, of course, whether or not she is planning to run for President. However, while we think Clinton is a great choice for the top spot in Walters' list (we actually predicted it a few weeks ago), especially with the reasoning that Walters gave, we can't help but take issue with the Most Fascinating People list as a whole. Namely, the fact that it is missing one of the most fascinating, influential, inspirational and admirable people in the world, Malala Yousafzai. 
Looking at the people who were chosen to make up the rest of the list — which includes Pope Francis I, Miley Cyrus, Prince George, Edward Snowden, ABC Anchor Robin Roberts, Diana Nyad, the cast of Duck Dynasty, Jennifer Lawrence, and Kimye — it simply makes no sense why Yousafzai wouldn't be included. Surely the 16-year-old girl who defied the Taliban, has become an advocate for peace and girls' education throughout the world, and is the youngest nominee for the Nobel Peace Prize in history is more interesting than, say, an infant, even a royal one. Yes, we know that the whole world was entranced by the announcement of Prince George's birth, and yes, we'll all fascinated by his parents, but he's still too young to have done, said or even thought anything particularly fascinating. And it's not like Walters would be able to actually hold and interview with the prince, so it makes no sense as to why he would be on the list when someone like Yousafzai, who is much more deserving, is not. 
Look, we get that ratings probably play a large role when it comes to choosing the list. After all, who guarantees higher ratings than Kim Kardashian, Kanye West, Miley Cyrus and the cast of Duck Dynasty? But we can find out plenty about all of those people on their television shows, social media accounts, or in the countless other interviews they give throughout the year. And, let's face it, none of them are really more fascinating or inspirational than Yousafzai is. 
So, what should we do about Yousafzai's unfortunate exclusion from this list? Well, since it's too late for Walters to change her mind, we recommend instead that everyone focus on Yousafzai's achievements and activism. Read up on her story, and her mission. Buy her autobiography, I Am Malala. Donate to and support her foundation, The Malala Fund, which works to encourage and empower girls to stand up for their right to education, as well as helping to fund programs that ensure that girls get the education and opportunities that they deserve. And make sure to vocally support Yousafzai and her quest to ensure that all children will receive an education. She might not be willing to declare that she more than deserves to be on top of everyone's Most Fascinating People list, but we definitely are, and we will.
You can catch the entirety of Walters' Most Fascinating People special on ABC's website, and watch Yousafzai's wonderful interview with Jon Stewart, below.