Anyone Else Offended by Marvel and Hyperion's She-Hulk and Rogue Romance Novels?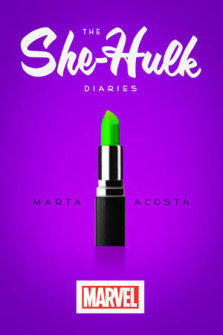 Marvel Comics and Hyperion are teaming up to give something to the ladies. Or, at least, what they think we want — if, of course, the ladies that read comic books were stereotypes and cellophane versions of real human women. It's making us angry — and you won't like us when we're angry.
The two announced a deal Thursday to publish two action/adventure romance novels about popular female superheroes She-Hulk and Rogue. The only problem is — Sigh. Why do they make it so easy for me? — that these books sound fairly offensive, as if they were "OK'd" by someone who maybe hasn't ever met a modern woman before. (And no, I didn't make the virgin joke, because that's petty, lazy, and just another way society messes with everything and shames people for no good reason. But I digress!)
The novels purport to "showcase strong, smart heroines," but seemingly relegate their stories to "seeking happiness and love" as if those are the only two things women are programmed to care about, ever. Everyone knows women also care about fashion and making pies! So that's like four things. Give us some credit! Gosh.
RELATED: Captain America 2 Recruits Revenge Star Emily VanCamp
Here's an unpopular opinion, comic book industry: Why don't we first work on making our female superheroes more than just spandex-tinged boobholders meant to tantalize and frustrate the predominately male audience that reads them? I don't think anyone would ever accuse the industry and its fans of being super feminists.
How about trying to bring females into the fold as equals? Say, by — oh, I don't know — removing a bit of the misogyny that's followed them for so long? Women don't need The She-Hulk Diaries. Because 1) the name is a rip-off of so many other trite and cliched things out there right now, 2) green lipstick, seriously?, and 3) If you fix your root problem, you might actually convince women that reading the source material itself is worthwhile. You know, actual comic books? Or are some executives out there afraid that, by creating realistic portrayals of women, they'll lose the coveted mouthbreather demographic?
As a woman, it feels like a proverbial pat on the head. As if the comic book industry is placating those among us demanding better portrayals of women. And Hyperion Editor-in-Chief Elisabeth Dyssegaard isn't helping matters much either when she is quoted as saying, "Marvel has had tremendous success with recent hit movies and we think it's a great time to explore what happens to super heroines when they are dropped into traditional women's novels." Just repeated that last line in your head: "traditional women's novels." There isn't enough blank space on the Internet for me to get into that one.
RELATED: 'Iron Man 3' Super Bowl Trailer: A Thousand Big Explosions (and One Looong Joke)
Ruwan Jayatilleke of Marvel Entertainment seems to agree with Dyssegaard (somehow), explaining that, "it's exciting to see Hyperion bring two of our most beloved female super heroes, Rogue and She-Hulk, to life in ways you've never seen before. Whether you're a long time fan of Marvel or new to our Super Heroes, these novels deliver exciting stories that will capture your imagination." But only if your imagination dreams in cherubs and unrealistic romantical expectations, natch! What about giving little girls the same sort of role models as the little boys have in Spider-Man, Iron Man, Batman, Hulk, Captain America, Superman, and the like? Don't they deserve that, too?
The books purport to discuss both love and battling cosmic evil, but the descriptions of the books seem to focus way more on the former than the latter. The She-Hulk Diaries — the less-offensive sounding of the two (I know! Don't get us started on that book cover) — is said to focus on Jennifer Walters, a.k.a. She-Hulk, and her quest to balance work and super villains all while "trying to navigate the dating world to find a Mr. Right who might not mind a sometimes-very big and green girlfriend." 
Rogue Touch centers on the X-Men heroine who absorbs powers through touch. After accidentally putting her boyfriend in a coma (Silly ladies! They can never control their emotions, let alone their superpowers!), Rogue runs away from home, where she then meets the "handsome and otherworldly James and sparks fly." Oh no! Poor Rogue is stuck between two dudes! And she has superpowers that, even though she's lived with them from birth, she can't seem to control! Life for a woman is complicated! But only in the silly, trivial ways, amirite?
Call me crazy, but no one was all that excited by the film I Don't Know How She Does It, so something tells me they won't be lining up for this stuff, either. No matter how many She-Hulk smashes might occur.
RELATED: Jessica Biel Bails on 'The Wolverine,' a Superhero Movie That Can't Get a Break
The condescension in the idea alone — that there even needs to be a separate set of books, called "traditional women's novels" at that! (hoo child, don't get me started on that one) — may end up being more offensive than the books themselves. (One should always hope for the best.) But if the comic book industry thinks that this is the answer to their woman problem, well, they're worse off than we originally imagined.
What do you think about Marvel's new female-fronted endeavor? Let us know in the comments!
[Photo Credit: Marvel]
Follow Alicia on Twitter: @alicialutes
---
From Our Partners:
Justin Bieber Drug and Cheating Rumors?! (Vh1)