Michael Fassbender Melts Writers' Brains with His Hotness: The 5 Craziest Examples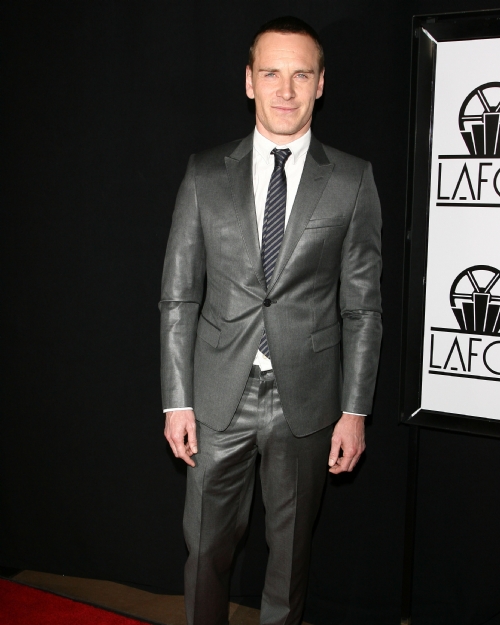 As someone who has admittedly written some pretty crazy things about the hotness enigma that is Michael Fassbender, I get how other writers might go overboard with trying to put him into words. (How can an attractive land shark also be a charming and sexy Golden Globe-nominated actor? The mind boggles.) Vogue's Vicki Woods is the latest to join the increasing lineage of journalists who have come across the 35-year-old star that have attempted to articulate the Irish/German actor beyond "What?…But how?….So handsome."
In the May issue of Vogue (which features fellow jaw-dropping stunner Scarlett Johansson on the cover, so there's really something for everybody) Fassbender is described as being so damn hot that "he sucks all the air out of the room, mesmerizing even the preschoolers in strollers." That's right, not even babies can resist the chiseled good looks of Fassy. "His voice is as deep and gravelly as Harrison Ford's, his carriage as upright and intense as Daniel Day-Lewis's, the blue/green/gray eyes as attention-grabbing as Paul Newman's," she goes on to write about the Prometheus star, noting that the women in the cafe where they were conducting their interview were staring at him so intently she became "unhinged." (And you guys thought Ryan Gosling was making your life difficult.)
But Vogue is hardly the first publication to go absolutely gaga for the Shame star. Here's some other times when Robo-Fass has caused writers to meltdown in his very presence:
1. GQ named Fassbender one of the Men of the Year for 2011 and noted in their piece on him that, "women pass out in movie theaters when the actor comes on-screen" and argued that the actor "is so handsome that it's almost tacky."
2. British GQ warned about their February cover lad: "If your girlfriend/wife/partner significant other doesn't already want to sleep with Michael Fassbender, she will at any moment."
3. W magazine put Fassy on their cover as well (along with some revealing photos on the inside – bonus!) and alerted readers that, "Though in person Fassbender's blue eyes contain mischief and an infectious lightness, they mask what is often a brooding, secretive darkness on film, along with a startling intensity."
4. UK's Company magazine swooned that Fassbender "looks exactly like he does on-screen – angular and handsome. He has the sculpted features of a 1940s matinee idol, and those lovely Irish blue-grey eyes…OMG those eyes!"
5. Entertainment Weekly declared Fassbender "your next obsession" and said he "comes across on screen and off as a rakish throwback to a long-lost generation of bad-boy actors like Peter O'Toole and Richard Burton — macho men who seem to know their way around the barroom and the bedroom. And if that isn't enough, there's also this: He knows how to make an entrance."
What's craziest (albeit accurate) thing you've ever read about Michael Fassbender? Was it the time his Jane Eyre co-star Mia Wasikowska said even the horses on set got a little horny around him? How would you be able to describe him, besides, of course "homina-homina-homina"? Just try to!
[Photo credit: David Edwards- © 2012- DailyCeleb.com- All Rights Reserved]
More:
Michael Fassbender Turns the Big 3-5
Michael Fassbender's 'Manhood' Gets A-List Praise
Michael Fassbender and Charlize Theron in Prometheus – PHOTOS