Miley Cyrus Covers 'Jolene' Pre-Haircut, Reminds Us What She Used to Be Like — VIDEO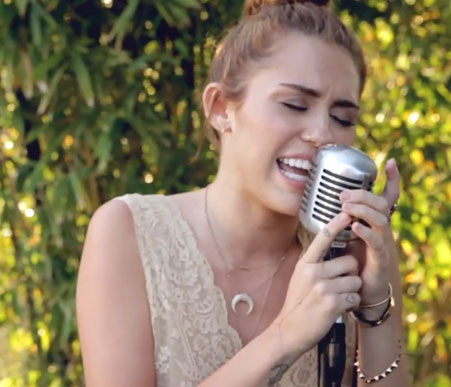 Remember when Miley Cyrus had long hair, sang country-tinged pop songs, and graced our TV's as Hannah Montana? That was certainly a long time ago.
But it wasn't too long ago when we could find Miss Cyrus maintaining those first two practices. Pre-bleach blonde buzz cut Miley covered a few great songs beautifully – first came Bob Dylan's "You're Gonna Make Me Lonesome When You Go," then James Shelton's "Lilac Wine," and then Melanie Safka's "Look What They've Done To My Song, Ma." And now, Cyrus has just released another number that she had recorded last summer during "Backyard Sessions."
Cyrus and her band covered her godmother Dolly Parton's "Jolene," and the soulful, gorgeous, minimalistic take on the 1974 hit is quite unlike the Miley we've been seeing lately. First of all, she's fully clothed, and there are no naked strippers or pole dancers in sight. The acoustic version of the song is lacking in the thumping bass her collaboration with DJ Borgore uses so freely. Cyrus sings barefoot, swaying with the song, and reminds us that she truly is an artist when you strip away all the scandal, makeup, outlandish outfits and antics and background noise.
While this is a refreshing look at the teen star, it only makes us more curious about her upcoming album, which is being produced by Pharrell Williams. The album is being described as unlike anything she's done before.
"Her sound right now is her personality," Williams told MTV. "That's what we've been aiming for in the studio and that's what's been coming out and that's what's been sounding so interesting. Her voice is a very powerful one – you just have to hear it to know that and to understand it. It's nowhere near what it is that you think."
We're going to assume that means her new album will be more along the lines of "Decisions" and less like this "Jolene" cover. Watch the vintage Miley Cyrus below, and hit the comments with your predictions about her upcoming album:
Follow Sydney on Twitter @SydneyBucksbaum
More:
The 10 Weirdest Pop Culture Christmas Ornaments — GALLERY
Miley Cyrus Finds a Travel Companion in a Blow-Up Doll — PHOTO
Taylor Swift, Miley Cyrus Named Most Charitable Celebs — They Donated HOW Much?!?

20 Hottest Bikini Bodies of 2012: Kim Kardashian and More!