Miley Cyrus: The Warning Signs Were There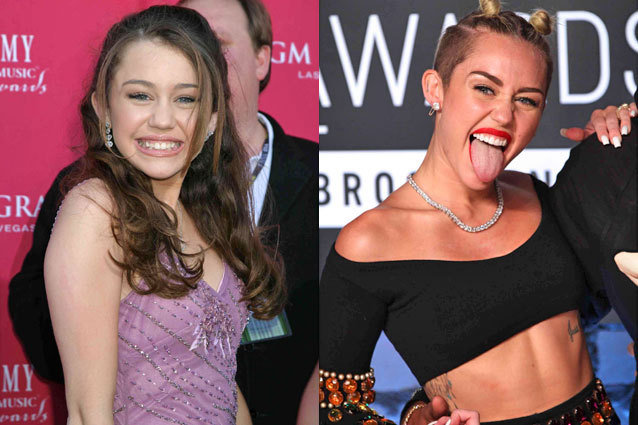 WENN 
A lot of people were left feeling confused, scared, and alone after the events of Aug. 25, 2013. We watched formerly beloved American icon Miley Cyrus quite literally fall (over) from grace into a bent position creating the twerk seen 'round the world. We were forced to ask ourselves, how did this happen? How did she so quickly transition from Hannah Montana to a sexually explicit teddy bear, singing about narcotics while suffering from an undiagnosed tongue condition? The truth is this progression has not been a quick one by any means, the warning signs have been there all along.
In 2008 (age 15), Miley caused controversy by posing for photographer Annie Lebovitz wearing only a bed sheet for her spread in Vanity Fair. Some called the image pornographic, while Disney maintained that she was manipulated and her parents insisted they weren't present for the shoot.
At the 2009 Teen Choice Awards (age 16), Miley took to the stage for a mild but out of place pole dance, singing her single "Party in the USA." Dressed in short shorts, a tank top exposing her bra and high-heeled black leather boots, she shocked her young audience with a performance now modest in comparison.
Also in 2009 at a wrap party for her movie The Last Song, a then 16 year-old Cyrus was recorded giving a lap dance to 44 year-old Adam Shankman, a producer and judge on 'So You Think You Can Dance.' Though Shankman is openly gay, Miley's behavior was suggestive to say the least.
In December of 2010 (age 18), a video was released of Cyrus smoking out of a bong and giggling uncontrollably. Representatives claimed that she was smoking Salvia, a substance similar to marijuana that's legal in most states. Regardless of the claim and legality, Miley told Marie Claire magazine "I'm disappointed in myself for disappointing my fans."
Between the various stunts pulled throughout her teens, shaving her head in 2012 and turning her online profiles into a veritable smorgasbord of explicit photos, it's no surprise that a now legal (and resentful) Miley Cyrus is still twerking hard to push the envelope. In all fairness, she told us with her single in 2010 that she "Can't Be Tamed." Perhaps we should have listened.