The Most Outrageous Celebrity Beauty Regimens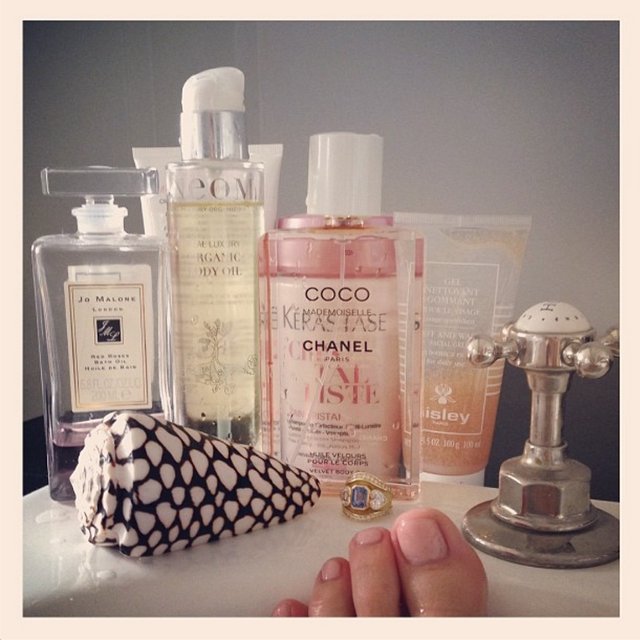 Instagram/poppydelevingne
To get that million-dollar glow, you may have to spend that much. At least, that appears to be the idea when you take a closer look at the products and procedures some of the world's most beautiful faces can't get enough of.
Rodin Olio Lusso Face Oil
Face oils are the biggest thing in skincare right now and the stars can't get enough of this one by Linda Rodin. This blend of 11 essential oils costs $150 for 1 fl oz (just 2/3 of a standard shot). Models Georgia May Jagger and Adriana Lima are said to slather it on regularly.
Sheep Placenta Facial
Victoria Beckham is said to pay nearly $450 a session to have sheep's placenta applied to her face to reap the benefits of the animal's stem cells, according to the Mirror. The treatment is offered by Los Angeles-based celebrity dermatologist Dr. Harold Lancer. Sounds rejuvenating?
Crème de la Mer
This moisturizer contains the brand's signature "Miracle Broth," made from various sealife to nourish and tone the skin. Jennifer Lopez was once said to use it from head to toe. Just 1 oz will set you back $160, but if you really want to go A-list, you'll go for the 16.5-oz jar, which sells for a cool $2,000. Hey, if that's the secret behind how amazing J.Lo looks, it might just be worth it…
The Evian Experience
If your normal bathwater just isn't good enough anymore, you can head to the Hotel Victor in Miami and soak in a tub of Gerber daisies and 1,000 liters of double-filtered Evian water. It's said to cost about $5,000. Apparently Beyoncé and daughter Blue Ivy enjoyed this bath on New Year's Eve, according to the Daily Mail. Quite the bubble bath for a toddler.
Clé de Peau Beauté La Crème Night Cream
The active ingredients in this anti-aging cream include 4MSK to block melanin that can cause age spots and retinol to fight wrinkles. For 1 oz, be prepared to pay $525. Amanda Seyfried is a fan, who has also spoken on behalf of the brand.
BORBA HD Diamond and Ruby Peel
According to Forbes and the Daily Mail, Mila Kunis shelled out $7,000 to have her skin treated with rubies, diamonds and other precious stones to make her complexion truly glow. Personally, we would take a tennis bracelet that we could rub on our face anytime.
La Prairie Platinum Cellular Cream
If you really want to bring in the big guns for a radiant complexion, you'll need $1,080 to get your hands on 1.7 oz of this cream that contains platinum. No surprise here, Gwyneth Paltrow is said to love La Prairie.
Are these products and procedures worth it? Only time will tell.