Hugh Jackman and Chris Hemsworth Played "Musical Beers" And We Want To Play Next Time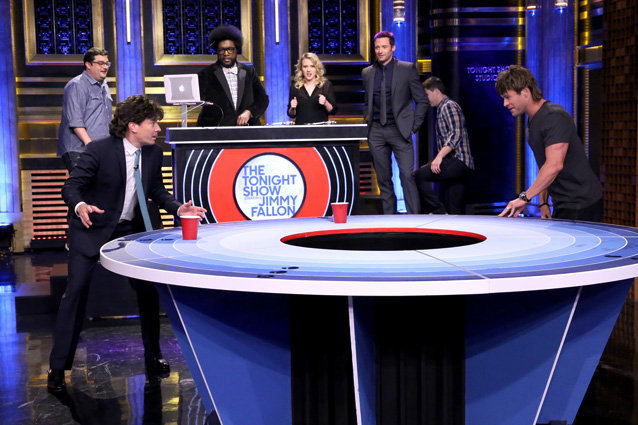 NBC
Jimmy Fallon seems to try and outdo himself with every episode of The Tonight Show by playing some crazy fun game with his guests. We think last night's game of "Musical Beers", starring Chris Hemsworth, Hugh Jackman, and some Saturday Night Live cast members (Kate McKinnon, Colin Jost, and Bobby Moynihan) was hysterical and we wish we could have joined them.
Last night, Hugh Jackman stopped by the show to promote his new film Chappie, in which he said he rocked a mullet in real life for filming. So of course, Jimmy broke out some mullet wigs for the rest of the show. One of our favorite games returned last night – because drinking games are always the funniest – and Hugh got a chance to try and win "Musical Beers".
Watch the hilarious video, featuring some really weird mullet wigs and the song "Bang Bang":
Poor Kate was out first and instantly went into what Jimmy called a "Dame Maggie Smith" impression. We were rooting for you Chris and Hugh, what happened!? We blame the wigs.