10 Things To Know About Peter Capaldi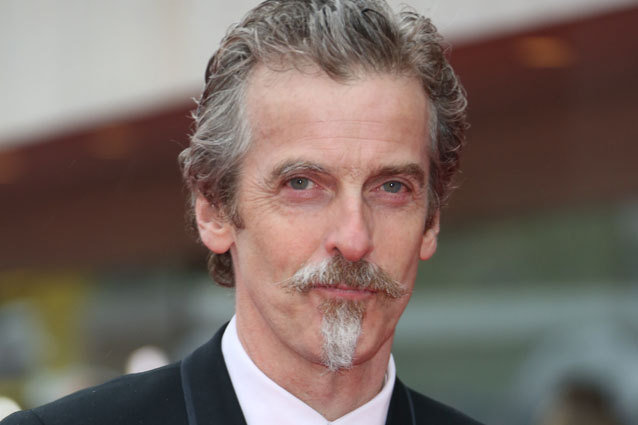 WENN
Filming has begun on the annual Doctor Who Christmas special, which will see current star Matt Smith regenerate into new lead Peter Capaldi. For the uninitiated: one of the rules of the long-running British sci-fi series is that the Doctor can dodge death by altering every cell in his body, allowing the show to continue even as Ryan Gosling steals Smith away to embark on a promising film career.
The Scottish Capaldi will be the 12th actor to take on the role of the traveling Time Lord. At 55, he ties first Doctor William Hartnell as the oldest man in the part. But what else should we know about the new captain of the TARDIS? Read on to meet the new man of mystery behind the universe's ultimate man of mystery.
He's an Oscar Winner!
The next actor to whisk us across time and space is the only one who can boast an Oscar! Peter Capaldi won the Live Action Short Film Academy Award in 1995 for directing Franz Kafka's It's A Wonderful Life. Confident from his win, he claims to have taken one disappointing meeting in Los Angeles before getting on the next plane back across the pond.
He's Totally Punk Rock!
While in art school in Glasgow, Capaldi was the lead singer of a post-punk band called The Dreamboys. The drummer? Future chat show host and Doctor Who superfan, Craig Ferguson. Ferguson introduced Capaldi on his show as a guest with whom he's "dropped acid." Wouldn't you have liked to have partied with those guys?
He Has Experience
Capaldi has already been seen in Doctor Who, playing a desperate father dealing with a ready-to-pop Mount Vesuvius right outside his front door in Season 4 episode "The Fires of Pompeii." He also played a significant role in the third season of Who spinoff Torchwood. Tissues required for that one.
The Cumberbatch Connection
He costars with Hollywood's current Brit obsession Benedict Cumberbatch in the upcoming Julian Assange flick The Fifth Estate. But they've also played the same suspicious angel in two different adaptations of fantasy author Neil Gaiman's Neverwhere. Capaldi's was a charmingly low-budget 1996 miniseries, while Cumberbatch's is a 2013 radio play co-starring James McAvoy.
He's Most Likely Not in Harvey Weinstein's Rolodex
Capaldi tells reporters that he based his breakout role as the fabulously foul-mouthed Malcom Tucker in comedy series The Thick of It and spin-off film In The Loop on blustering Hollywood heavyweights, particularly Weinstein.
His Last Role Was Creepily Prophetic
Capaldi was last seen by American audiences in the Brad Pitt-fronted summer blockbuster World War Z,  credited as a "W.H.O. Doctor." We know that acronym stands for World Health Organization, but still, hmmmm…
He's a Beatle
Sort of. He played George Harrison in the 1985 TV movie, John and Yoko: A Love Story.
He's a Grown-Up Fanboy.
During the initial, classic run of Doctor Who, UK magazine The Radio Times published a fan letter from 15-year-old Capaldi congratulating them on a recent special edition focusing on the show. Now he's all grown up and essentially becoming his childhood hero, giving faith to Whovians everywhere.
Oh My God, He Totally Knows Brangelina!
After fighting zombies with Brad, Capaldi joins Angelina Jolie on the darker side of one of our favorite fairy tales. He spent six hours in makeup every day for his upcoming role as King Kinloch in Maleficent, the origin story of Sleeping Beauty's evil witch.
The Silver Fox Effect
The Doctor is regenerating in December, but his companion is staying put. Jenna Louise Coleman, who plays the Time Lord's current best pal Clara Oswald, is 28 years Capaldi's junior, making their age difference the largest in the show's history.
More:
Best 'Abbey Road' Photo Tributes
Ricky Gervais on His Favorite Comedians
'Sesame Street': Watch Tom Hiddleson Teach Cookie Monster
---
From Our Partners:


40 Most Revealing See-Through Red Carpet Looks (Vh1)


15 Stars Share Secrets of their Sex Lives (Celebuzz)