New Years Resolutions We Wish Certain Celebs Would Make For 2017
At the end of every year, we get to sit back and reflect on the past 12 months and resolve to change things about our lives that could make it better. We watch the lives of celebs play out on TV, online and in magazines, and while they contribute a ton by keeping us entertained, there are some aspects of their personalities or lifestyles we wish they'd work a little harder on. As we get ready to welcome 2017, we're keeping a finger crossed the following celebs will resolve to make these changes to their normal routine.
 The Kardashian/Jenner clan – Use Your Fame To Help A Good Cause
Giphy
Seriously, for the amount of fame they have from their TV show, modeling, makeup lines, clothing, and relationships, they have yet to use their public platform to bring attention to a worthy cause.
Taylor Swift – Disband The "Squad"
Giphy
Not to say Taylor Swift needs to be a friendless pop star who never goes out, but it would be awesome if she stopped showcasing her group in a way that feels like the popular clique in high school looking down on everyone else…a little diversity among her crew would be welcome too.
Kanye West – Be Quiet
Giphy
Kanye West
loves to hear himself talk. He needs it almost as much as he needs air. However, with all the drama that surrounded him this year and his recent trip to the hospital, it might be time to resolve to keep his lips sealed, which would make an even bigger headline than his usual rants.
Ariana Grande – Change Your Hairstyle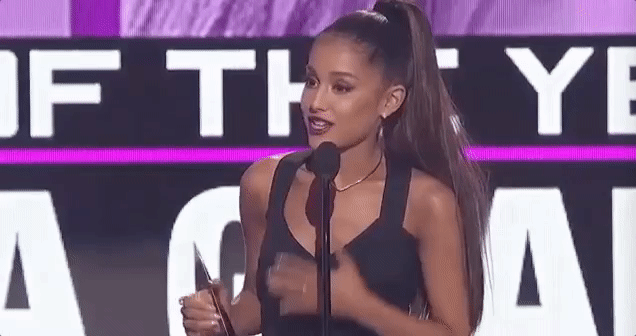 Giphy
Ariana Grande
is gorgeous. She rocks a fierce ponytail or half up and that's it. In 2017 a resolution to try bangs, a bob, lob, pixie cut, layers, or just wearing it all down would make everyone's eyes pop!
Bella Thorne – Stop The Overshare
Giphy
Bella Thorne 
has spent the better part of 2016 proving she's not a little girl anymore. She came out as bi-sexual, posted snaps of her kissing her BFF, gave
Tyler Posey
a ton of hickeys on his neck and made sure to fill up her Instagram with sexy and sultry looks. We get it Bella and we love you, but you don't need to put so much out there.
Beyoncé – Get Destiny's Child Reunion Tour Together
Giphy
Beyoncé
we will love you a zillion times more than we do now…if that's even possible. Plus, think of the serious money to be made.
Blue Ivy
's children's children would be set for life.
Justin Bieber – Stop Getting Tattoos
Giphy
Justin Bieber
 you're such a babe and we can appreciate some awesome ink, but you don't have it. Take a year off from the tattoo parlor…please.
Giphy
Because we're all dying to see the wedding dress and pics of the reception. Plus, it would finally put an end to the "are they?' or 'aren't they?"  question that surrounds them.
Giphy
Even though it's evident it's pretty far gone, it would be amazing to see this pair of Disney BFFs get back to a pre-squad place again.
Giphy
It would be a musical orgasm…nuff said.