NFL, Move Over! Hollywood.com Drafts Its Own All-Star Team
Step aside Giants, Patriots, Packers and whatever other teams thinks that it stands a chance to make it to the Super Bowl this year — it's time for Team Hollywood to get in the game. (We'd draft you if we could, Tom Brady and Eli Manning!)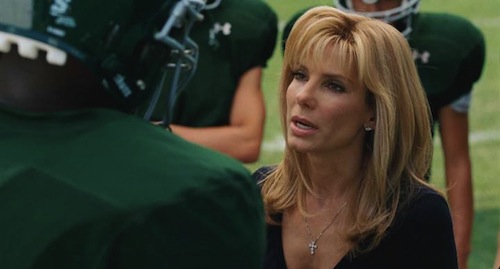 While we may not be looking for the sweatiest jocks in town, we definitely know how to scout. Whether it's scoping a good arm or projecting a new play, these are the stars that we choose to draft for Team Hollywood. This is guaranteed to be a championship winning team!
Sandra Bullock as Coach
Bullock must be one of the most well collected individuals when it comes to being in front of a camera. She knows how to remain calm when a storm (like Jesse James) attacks — and she always can plan her next strategy. She would be a PR dream come true if it came to leading a football team. And it doesn't hurt that she won an Oscar for role as Leigh Anne Tuohy in The Blind Side. (My pick)
George Clooney as Quarterback
He's great at devising new plays, especially if he's up against Brad Pitt's team. He also isn't deterred by old, grisly-like men who try to tackle him, especially if the playing field is in D.C.
Gina Carano as punter
If she can kick Michael Fassbender's ass, imagine what she could do with a football. (Aly Semigran's pick)
Joe Manganiello as a Running Back
This may be 98 percent based on the fact that he looks really, really good running through the forest in True Blood, so by the transitive property, he'd look great running to catch a pass on the field. The other two percent comes from sheer curiosity: what does a werewolf's end zone dance look like? (Kelsea Stahler's Pick)
Angelina Jolie as a Running Back
She'd catch the defense standing and staring every time she runs with the ball — especially if she flaunts a leg, Oscars style. This could backfire, however, if the defense tries to tackle her… like, lustfully. (Brian Marder's pick)
Jason Schwartzman as the Placekicker
He's plucky, he's courageous, he's wily. He might not be big, but he's got heart, and the sarcastic wit that keeps the team upbeat in times of duress. Most importantly, when it comes down the last point of the game, it's always the small guy who believed in himself when no one else did (I got all of my football knowledge from movies in the '90s). (Michael Arbeiter's pick)
Winona Ryder as the Wide Receiver
Her expertise in snatching and running (a football is about the size of a bag of Sachs Fifth Avenue garments, no?) will come in handy when fleeing from the authorities opposing team. (Matthew Patches' pick)
Channing Tatum as a Tight End
The reasons for this are obvious, but he's physically fit enough to be a fast runner and still broad enough to be an effective blocker. Plus, can you imagine that body in a football uniform? The title says it all — this guy deserves to strut his stuff out on the field. (Kelly Schremph's pick)
Taylor Kitsch as a Tight End
Tim Riggins lost his way when he left the Dillon Panthers, and Taylor has had some serious misfires in big-screen land. Let's get him back to TE, where he can work his magic on the O-Line AND catch Clooney's Hail Marys. (Shaunna Murphy's pick)
Justin Bieber as a Head Cheerleader
The swarm of screaming girls that follow him everywhere he goes would put any team's cheering squad to shame. Also, we could use "Boyfriend" or any of his other hit songs as the theme song for our team. Taylor Swift can be the co-captain. Why do girls become cheerleaders in the first place? Because they can't carry a tune!
And of course, Rob Schneider has to be the Gatorade jug! (Kate Ward's pick)
Hut, hut, hike!
More:
Jason Trawick Locks in Conservatorship Over Britney Spears