Nick Cannon & Julianne Hough Break World Record
America's Got Talent host Nick Cannon and Dancing With The Stars judge Julianne Hough teamed up with Samsung to smash the Guinness World Record for the longest selfie relay chain with 283 consecutive selfies. The event was to promote Samsung's next generation of digital cameras – the new NX line. The cameras are slimmer, sleeker and have the ability to connect to smartphones. Samsung gave out 300 of their brand new cameras as they called for people to "Ditch the DSLR" in exchange for the new Samsung devices. Samsung also donated $50,000 to Habitat for Humanity of Greater LA as part of the event. Click here to find out more about Samsung's new digital cameras.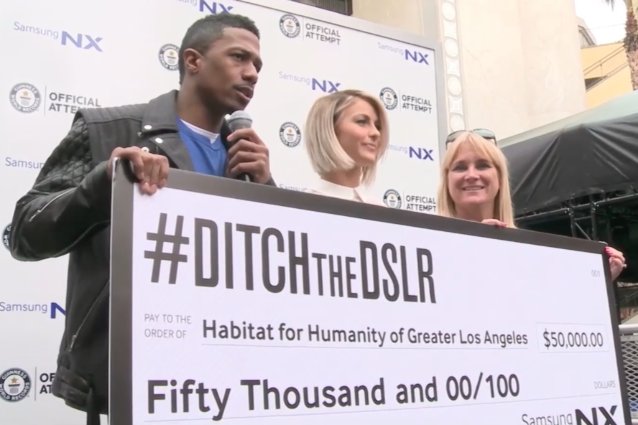 Samsung
Despite his pending divorce to Mariah Carey – which seems to be getting ugly – Cannon is "getting out there" with seemingly endless projects he has keeping him busy. Cannon just wrapped the 9th season of America's Got Talent alongside judges Howard Stern, Heidi Klum, Howie Mandel and Mel B. The winner, magician Mat Franco, was awarded $1 million and a headlining show in Las Vegas. Cannon is all for a magician winning the talent competition show, saying: "There's so many other singing competitions and dance shows out there. For someone like a magician to be able to come through and win $1 million, it shows you what the show's all about – it could be any talent. I mean, he was the best and most talented person that America saw. So, therefore, he took it all the way, and I think it was well deserved."
It seems like keeping busy is the best way to keep his mind off his marriage troubles. He has a new standup comedy show for Showtime called F#ck Nick Cannon, an album White People Party Music (the new music video for "Looking For a Dream" is quite exceptional by the way). Oh, and he's writing a children's book based on his and Carey's twins Roc & Roe. He also recently rocked the most expensive pair of shoes ever – a $2 million pair of diamond loafers – marking two Guinness world records he's broken. Not too shabby. This guy is certainly not moping around while his soon to be ex-wife is on a world tour.
Cannon also has a couple works that are under the radar. He's going to be bringing Robin Leach's Lifestyles of the Rich and Famous back to TV. And he recently partnered with Maxim – he'll be taking over the magazine's content as well as heading strategic events. "I'll be doing my thing… so that's kinda cool." Keep doing your thing, Cannon. It's very cool indeed.
Cannon also stars on BET's Real Husbands of Hollywood alongside Kevin Hart, Nelly, Boris Kodjoe, Duane Martin and J.B. Smoove. "The fakest reality show on TV" just premiered its third season. Catch new episodes of the hilarious show Tuesday nights at 10 p.m. on BET.