The *NSYNC Reunion at the VMAs Was Actually Kind of Weird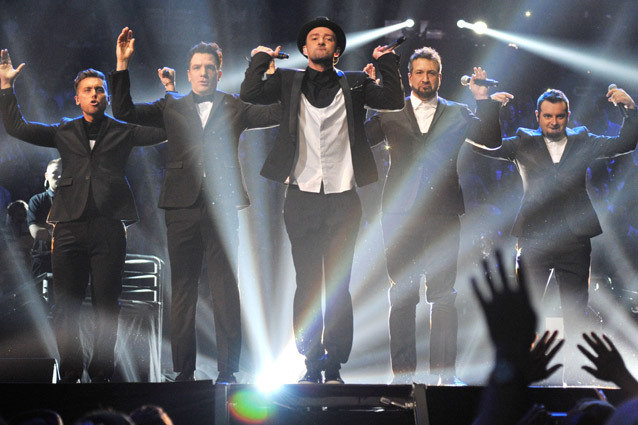 Kevin Mazur/WireImage
As it is only Kanye West who gets all riled up over who wins and loses at the MTV Video Music Awards, the thing fans were looking forward to most vehemently in regards to the 2013 ceremony was the rumored reunion of the '90s boy band sensation *NSYNC. At first, we heard it would happen. Then, we were told it wouldn't. And finally, we were almost sure. And then, just a bit after 10 PM EST, we were met with the answer… and the phenomenon we had been awaiting much longer than the past few weeks. All five members of *NSYNC took the stage to perform again for the first time in over a decade. It was exciting. Even a bit chilling. But, truth be told, it was kind of weird.
Not the idea of the reunion itself, but the way in which it was carried out. In the middle of (not at the end, mind you, but in the middle of) a medley of Justin Timberlake's biggest hit numbers, his fellow former bandmates (Lance Bass, Joey Fatone, JC Chasez, and Chris Kirkpatrick) appeared from behind a cloud of your standard bout of award show fog to perform snippets of "Girlfriend" and "Bye Bye Bye."
For fans attending the ceremony, it might have been an awe-inspiring ordeal. But for those of us watching at home, the whole thing seemed highly downplayed. The production decided, quite curiously, to shoot the performance from so far away that we could barely make out the faces of the men. And after what felt only like a minute's worth of music (but that might just have been the adrenaline), the *NSYNC fellows were gone, leaving Timberlake alone onstage to continue with his solo shtick.
After concluding his performance, Timberlake received the Michael Jackson Video Vanguard Award, presented by friend and occasional creative collaborator Jimmy Fallon, who regaled Timberlake as a living legend. With the award in hand, Justin paid an additional tribute to his *NSYNC brothers, citing them as huge contributors to his fame and success.
So maybe the reunion was a little bit imperfect. But hey, the band got back together. And clearly, there's a lot of love still between them. Congratulations to Justin and *NSYNC alike — we are forever adhered to your fandom.
More:
MTV VMAs Winners List
10 Most Controversial VMAs Moments
Who Would Win Today in These Retired VMAs Categories?
---
From Our Partners


Stars Pose Naked for 'Allure' (Celebuzz)


20 Grisliest TV Deaths of 2012-2013 (Vulture)