Olympics Round-Up: Teenagers, Twins, and One Undefeated Team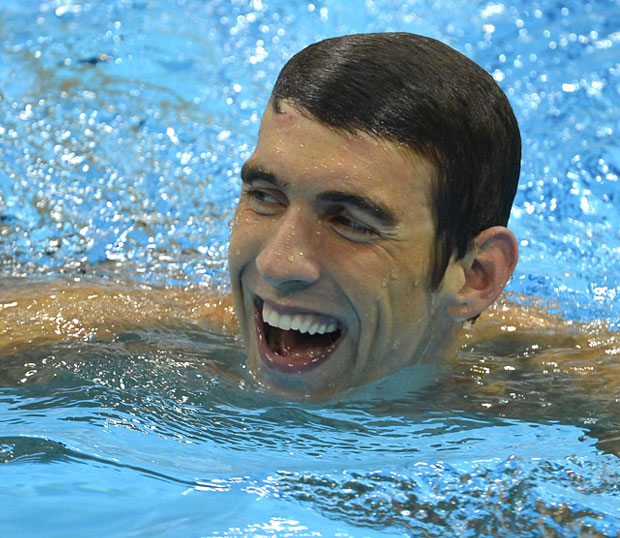 Day seven of the Olympics. Hooray for surviving the past week! But boo for the lack of shut-eye we've been getting due to the late-night coverage. (If someone can sue McDonalds over a hot coffee, technically shouldn't we be able to sue NBC for the military-sized duffel bags taking up residence under our eyes? No? Okay.)
So on the one-week anniversary of what we're calling "No Sleep 'Til Closing Ceremony," we once again took one for the team — Hey! Where's our gold medal? — and compiled the day's best highs (and lows).
Swim? Yes We Can!: Now that Ryan Lochte is officially done in the pool, the five-time medal holder can focus on more important things — like his 28th birthday today. Moving aside for half man/half fish Michael Phelps to do something he's never done before: monopolize the headlines — which earned him a call from the Big Guy in the White House. Today — at Phelps' last Olympics (says him) — he swam in his last individual event, the 100 meter butterfly. Despite taking first, he was still ages away from the world record he set back in 2009. And by ages, we mean more like mere seconds. Phelps will compete once more on Saturday in his last medley relay. We promise it will be the last time we'll say last… and Phelps in the same sentence.
Teen phenom (and Aurora, CO resident) Missy Franklin, however, did earn a world record and her third gold medal in the 200 meter backstroke. Fellow teammate and teenager Katie Ledecky can't drive a car, but she can drive home a win. The golden girl gave Team USA another first place finish by beating everyone else in the 16 long laps you wouldn't wish on your worst enemy, also known as the 800 meter freestyle.
Life Isn't Always a Beach: Competing on behalf of your country in board shorts might look like fun, but it's really really hard work. Just ask the men's beach volleyball team of Todd Rogers and Phil Dalhausser, Beijing's gold-medal winners. The pair — who were expected to bring home the hardware again — were ousted by the cannoli-loving country of Italy. Our only chance of a shiny medal now for the men is Jake Gibb and Sean Rosenthal, who are due to take on Russia. The women were more successful (despite wearing less clothing than the men). Jennifer Keys and April Ross advanced to the quarterfinals.
Brothers and Ball Girls: Doubles partners and twins, Mike and Bob Bryan, had already earned the title of the twins we'd most like to go on a double date with. Though is it still a double date if it's just us and them? But today they earned something equally exciting — for them — their first spot in an Olympic finals. This guarantees them a medal higher than the bronze they won in Beijing. See, exciting.
Speaking of siblings, the Williams sisters — Serena and Venus — were set to play today for their own spot in the women's doubles finals. (Serena could earn two medals as today she also advanced to the upcoming gold medal match in tennis singles.) But their duos match was pushed to the next day due to a busy schedule. Guess we can blame the tight semi-final match that lasted four-and-a-half hours between Switzerland's Roger Federer and Argentina's Juan Martin Del Potro. Federer will now play the UK's Andy Murray. Both men are hoping to change the fact that a singles gold medal has eluded them both. Until now.
Undefeated, a.k.a. Booyah Baby: Women's soccer has been in the press a lot (black eyes, bad commentators), but the thing that deserves the most ink is their ability to go this far in the Summer Games with nothing listed under the losses column. The gaggle of girls whooped New Zealand two-nothing to move on to the semis.
[Image Credit: Getty Images]
More:
Olympic Round-Up: Gabby Douglas and Other Team USA Dominations
Olympics Round-Up: Disqualifications, World Records, and Scandal!