'Watch What Happens Live!': Oprah and Andy Cohen Are Now My Two Favorite People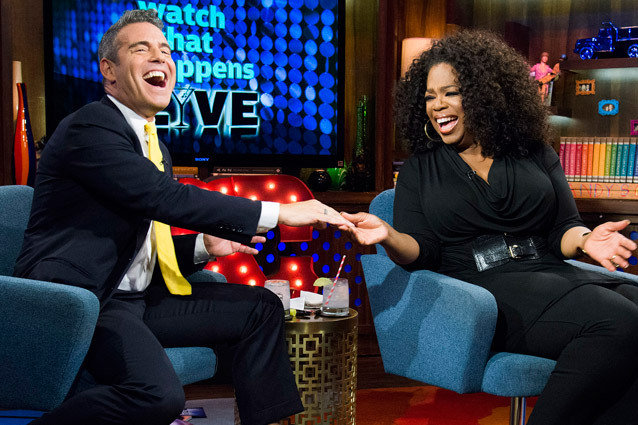 Oprah sat down with Andy Cohen on his show Watch What Happens Live last night and it was epic. Actually, epic might be an understatement. Because, not only did Oprah slap Andy silly, but she also watched some koala sex. O-yes! 
First off, let's talk about the groundbreaking moment when Oprah slapped Andy. Andy asked Oprah to smack him across the face while reenacting a pivotal scene from her new movie Lee Daniels' The Butler, and yeah it was awesome. Of course, Oprah didn't actually full-on swat Andy, but she did a mighty-fine job at fake slapping! After her playful slap-a-roo, Oprah gets all serious, reprising her character Gloria Gaines as she dramatically delivers a line from the film, which prompts Andy to squeal "She has the nomination." And we have to agree with Andy, Oprah absolutely kills it.
Now, if you thought that slap sequence was earth-shatteringly incredible, you're in for a treat, alright! Oprah and Andy even played a little game show, Encycl-O-Pedia. The outrageously optimistic host quizzed Oprah on her knowledge of her O-tastic twenty-five years on The Oprah Winfrey show. While the whole game-show was truly giggle-inducing, a few hilarious bits jump out. First off, we watch Oprah reminisce while watching her jam along to Mariah Carey's performance of "We Belong Together," but she doesn't quite nail the lyrics. I guess no one ever taught Oprah the "watermelon" lip-synching trick, eh? Secondly, Cohen reminds Oprah of when she couldn't help but blurt out "cum" in 1991. And last but definitely not least, Oprah watches herself O-gasm at the sight of two koala bears in the sack. Who knew Oprah was into koalas so much?!
And the greatest part of the whole interview? Oprah compliments Andy on his gregarious, uplifting spirit before declaring to him "you carry the light". Although I'm not really sure what carrying said light entails, it sure sounds magical. So, Oprah if you want to throw an ambiguous, seemingly metaphoric compliment my way, I'd be honored.
Follow Cori on Twitter @gimmegimmeCOR| Follow Hollywood.com on Twitter @Hollywood_com
More:
Revew: 'The Butler' Stays Entertaining While Telling An Important Story
Oprah and The Kardashians Talk Marriage, Fame – VIDEO
Oprah Wants to Know Why The Kardashians are Famous — VIDEO

---
From Our Partners:


40 Most Revealing See-Through Red Carpet Looks (Vh1)


15 Stars Share Secrets of their Sex Lives (Celebuzz)