Oprah Winfrey Tops 'Forbes' List of Highest-Paid Celebrities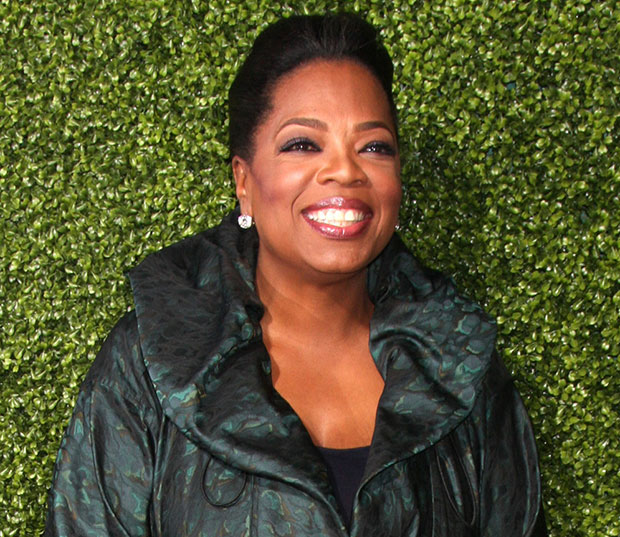 Forbes has released their annual list of the highest-paid celebrities, and for the fourth year in a row, Oprah Winfrey has snagged the top slot; she raked in an estimated $165 million in 2011. Following behind her at a close second is Michael Bay ($160 million) and Steven Spielberg ($130 million). Then comes Jerry Bruckheimer, Dr. Dre, Tyler Perry, and man after man after man, until we reach Britney Spears, who barely sneaks into the top 20. While we applaud Winfrey, we are also left scratching our heads. Where are all the ladies?
Here's Forbes' list of the top 20 highest-paid celebrities:
1. Oprah Winfrey: $165 mill
2. Michael Bay: $160 mill
3. Steven Spielberg: $130 mill
4. Jerry Bruckheimer: $155 mill
5. Dr. Dre: $110 mill
6. Tyler Perry: $105 mill
7. Howard Stern: $95 mill
8. James Patterson: $94 mill
9. George Lucas: $90 mill
10. Simon Cowell: $90 mill
11. Glenn Beck: $80 mill
12. Elton John: $80 mill
13. Tom Cruise: $75 mill
14. Dick Wolf: $70 mill
15. Rush Limbaugh: $69 mill
16. Manny Pacquiao: $67 mill
17. Dr. Phil McGraw: $64 mill
18. Donald Trump: $63 mill
19. Ryan Seacrest: $59 mill
20. Britney Spears: $58 mill
There is a serious dearth of women on this list. Winfrey's spot at the head of the table is hard-earned and well-deserved; she's a media mogul with a magazine, cable network, Sirius radio deal, and a number of television shows to her name. But you have to scroll down to the very last spot on the list to see another woman's name. Britney Spears helps bookend the list due to her endorsement deals, fragrance for Elizabeth Arden, musical appearances, and album sales. In between you find men who, largely, have worked to build empires for themselves. Forbes' list this year is not filled with hot shot actors and musicians (although there are a few), but with figures who are at the helm of many lucrative projects.
This list points to a larger problem. Considering the professions on the list, the lack of women does not illustrate that women are being paid less for equal work (we'll get to that later), but rather that there is a serious deficit of women in creative leadership positions in film and TV. Where are the woman producers? The women directors and the women franchise stars?
The men at the top of Forbes' list — names like Bay, Spielberg, Bruckheimer, and Perry — are responsible for bringing us some of the highest-grossing films and film franchises of all time. Transformers (Bay), Pirates of the Caribbean (Bruckheimer) and Jurassic Park (Spielberg) all make it into the top 25. But only one prominent female producer behind a blockbuster hit in the past few years springs to mind: Nina Jacobson was a producer on The Hunger Games. Going back a little bit farther, we have Barbara Broccoli behind many films in the James Bond franchise, Gale Anne Hurd executive producing AMC's The Walking Dead and the Terminator films, Drew Barrymore with her Charlie's Angel's reboots and Kathleen Kennedy, whose resume is filled with box office hits (Indiana Jones, Jurassic Park, and Schindler's List, to name a few). But these powerful, successful women are the exception, rather than the rule. Plus, their work on the franchises named above still does not make enough in residuals to gain them spots on Forbes' list this year.
In a similar vein, Tom Cruise is the only star on Forbes' list best known for his work as an actor, and his spot is due largely to the success of 2011's Mission: Impossible — Ghost Protocol, on which he also has a producer credit. Racking our brains for female leads in huge franchises, we came up with Jennifer Lawrence in The Hunger Games (which thus far only has one film out), Milla Jovovich in Resident Evil, Kate Beckinsale in Underworld, and Angelina Jolie in Tomb Raider. Unlike Cruise, not one of these women acted as a producer on her own franchise. And that, my friends, is the question. Why not? Why aren't these women taking their careers, and their potential fortunes, into their own hands? I wish I knew. 
And this brings us to the next question: Why is it that the female counterparts to some of these celebrities didn't seem to earn as much as the men? Dr. Dre ranks fifth due almost completely to the success of his headphone line, Beats by Dre, but where are Jennifer Lopez, Beyoncé, and Katy Perry, who all similarly have successful product lines in addition to their music careers? This list only takes into account the money brought in in 2011, so could these divas just have had an off year? Even so, they seem conspicuously absent.
Also absent seems to be Barbara Walters, Harry Potter author JK Rowling (James Patterson made the list, after all), Madonna, Celine Dion (Elton John's up there, why not Dion?), and Lady Gaga. Only time will tell if their absences from the Forbes list is due to a single less lucrative year, or a greater discrepancy in earning between the sexes in Hollywood. Madonna and Gaga, with major tours and album releases in 2012 can hopefully crash the boys' club next year. 2012 was also big for the aforementioned Lopez (who landed a judging gig on American Idol) and Katy Perry (who released a concert documentary movie), so maybe 2012 will be the Year of the Ladies. One can always hope. 
Follow Abbey Stone on Twitter @abbeystone
[Photo Credit: WENN.com]
More:
Rihanna on 'Oprah's Next Chapter': 'I Still Love' Chris Brown