The 12 Celebrities Who Want To Punch Justin Bieber In The Face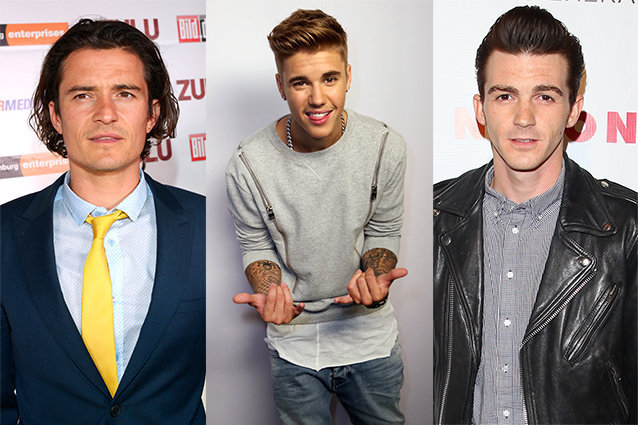 Getty Images/Getty Images/Getty Images
Another day, another Justin Bieber scandal. In the past, many of Hollywood's elite have voiced their negative opinions of the Biebs, but recently Orlando Bloom chose to use his fists instead. Early Wednesday morning, it appears that the Biebs and Bloom were in less of a partying mood, and more of a fighting one. It's not clear what sparked the fight (as if you need a reason to hit Bieber), but we're totally #TeamOrlando. Bloom joins the ranks of these other celebrity Bieber-haters. 
Seth Rogen:
This funny man first tweeted his sincerest feelings about Bieber back in January:
All jokes aside, Justin Bieber is a piece of shit.

— Seth Rogen (@Sethrogen) January 23, 2014
When he appeared on Howard Stern's radio show, Rogen elaborated with a story. When Rogen and Bieber were both guests on a German talk show, a member of Bieber's team reached out to Rogen because the pop star wanted to meet him. It wasn't exactly the meet up he'd expected.
"[…] I went outside to meet him and he was acting like I asked to meet him. It was very nonchalant, 'Yo man. Wassup,' and I was like, 'What the f*ck, I don't give a f*ck about, I don't want to meet you. Don't act all nonplussed to meet me. I didn't want to meet you. I was totally cool not meeting you… But I was like, fine, I wouldn't have said anything, I was like, 'He's a bit of a motherf*cker. Whatever. He's young, the kid's a dick.'"
Drake Bell:
In 2012, Bell began his hobby of being Justin Bieber's biggest hater, using Twitter as his weapon. At first, the tweets were pretty tame.
I wouldn't randomly bash @katyperry….bieber however lol

— Drake Bell (@DrakeBell) July 3, 2012
It didn't stop there, though. Bell continued poking fun at Bieber's talent and his "crazy" #beliebers over time. It's become commonplace in the Twitter world for Bell to shoot off a crack or two about Bieber. But more recently, Bell has unleashed his true and honest hatred for Bieber.
When is someone going to tell this idiot he can't draw.His art is almost as bad as his music. Talentless artless pic.twitter.com/N3xiPFfQNz

— Drake Bell (@DrakeBell) January 16, 2014
Olivia Wilde:
Wilde isn't a fan of how often Bieber is shirtless (same Olivia, same).  She took to Twitter last March to rant, "Bieber, put your f*cking shirt on. (unless you lost all your shirts in a fire in which case my condolences and please purchase a new shirt.)" She's since deleted this tweet.
Bill Hader:
The former Saturday Night Live cast member doesn't have any fond memories from when Bieber hosted the late-night gig. Hader even considers Bieber the worst host in the show's history.
Joel McHale:
When he appeared on Conan O'Brien's show, McHale was asked why someone would egg a house. His quick response was, "Because he's a f*cking idiot."
Jon Hamm:
In his interview with Men's Health, Hamm made it apparent that he believes Bieber is a person without any real life skills.
"Look at Bieber or whoever. You're like, 'What the fuck, man? What are you doing? Why?' There's no one telling those people no, and it's a shame. Is there a mom or a dad or a really good friend who can say, 'Hey, shithead!' You see people in the world and you're like, 'Do you know how a washing machine works? Do you know how to wash a dish?' Life skills are something we're missing."
Jon Bon Jovi:
Bon Jovi, whose career spans longer than Bieber's life, talked to The London Evening Standard about Bieber's blatant disregard for his fans, showing up anywhere from an hour to two hours late to his concerts.
"Every generation has guys that do that, none of that is new. […] Do it once, you can be forgiven. Do it enough times and shame on you. They won't have you back. Then it just becomes a cliché. It's really not cool — you're an asshole. Go to f***in' work!"
Rainn Wilson:
Like some of us, Wilson wanted to look back on the good ol' Bieber days. We might have separate opinions on what those actually are, however.
Im starting to miss the young, adorable mop bucket peeing, house egging & strip club raging Bieber of 2013. #belieber #DUIeber

— RainnWilson (@rainnwilson) January 23, 2014
Like Drake Bell, Padalecki has no shame in taunting Bieber on Twitter. During the scandalous "Egg-gate," Padalecki tweeted the star directly. 
 "Hey @justinbieber, how much are you paying your friend for pretending that it was HIS cocaine, and taking the fall for you?"
Zach Braff:
Braff was there to tweet what we all really felt when Bieber's life became a DUI, drag-racing hot mess.
Who amongst us hasn't drag-raced a Lambo in Miami on pills? #FreeBieber
— Zach Braff (@zachbraff) January 23, 2014
Jason Biggs:
Another tweeter-than-deleter, Biggs once went off on a massive Twitter rant, unleashing some intense feelings about the Biebs.
"Can you beat the c*** out of Bieber? Is that what you can do?"
"Maybe the police kept getting contact highs whenever they went over there?"
"I would get my actual jaguar and smear him in meat when I went to make my citizen's arrest."
And of course, the most recent, Orlando Bloom:
Bloom finally did what we've all wanted to do, if we're being honest, and took a swing at Bieber. This may not actually count as a fight, but we're still going to say Bloom totally won.
Bonus points: Bloom's Lord Of The Rings buddy, Dominic Monaghan, had the best reaction to this situation, ever.
.@TheLadBible: Orlando has won infinite lad points after punching Justin Bieber last night in Ibiza For the shire! http://t.co/yotFnVReEj"

— Dominic Monaghan (@DomsWildThings) July 30, 2014