The 10 Worst Lyrics in Paris Hilton's New Single 'Good Time'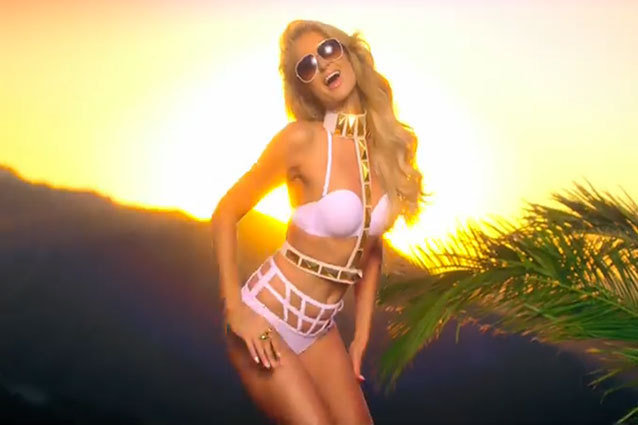 Paris Hilton/VEVO
Formerly famous terrible person Paris Hilton released a new music video today for her single "Good Time," from an album set to release at some point in the future. Now, let's get to the good stuff, and by that, of course, we mean the bad stuff. In addition to a new seriously cougar-iffic wardrobe of bedazzled one-piece bathing suits and a set of unnaturally blue color contacts to cover her naturally blue eyes, Paris has discovered auto-tune, generic club beats, and Lil Wayne's nominal appearance fee, but the songwriting is so lazy we thought we'd pull out the best/worst lines in case you don't have the spare brain cells to waste on the video.
Note: It was incredibly hard to narrow this down to 10… even though there's only about 11 lines in the entire song.
1. "Are you having a good time?/Cause I'm having a good time/And I might be a bit tipsy/But that's okay 'cause you're with me"
Let's just jump right in with the entire chorus. Compared to the rest of the song this isn't that bad, but it seemed necessary to point out that the song is so vapid that this is the best part.
2. "Paris, do you speak French?"
Good question, Weezy. We don't get an answer, though.
3. "I walked up to a big butt, and ask her ass 'bout what/Tunechi never slacks without a button up"
Allow me to direct you towards the video, where you can see Paris shaking her non-existant behind during this butt-inspired riff. Is it safe to say Wayne had third party inspiration. 

4. "We turned down for what?"
If anyone finds the song this line belongs to, please notify us. It's lost, out of place, and isn't making any sense.
5. "More money more problems, more money will solve them"
This is financial advice so misguided it could waste an heiress' entire inheritance and force her to get a real job. Hang on, there might be an idea here.
6. "Tomorrow isn't promised/Today is all we got"
This should hits home, as it is delivered by a man who recently was in the hospital for very serious health issues, and yet, doesn't make any sense coming from a man who elected to spend his days performing a verse in "Good Time."
7. "I really don't give a f**k, who got in my way/'Cause I came to party rock"
Ahh, the not-even-slant rhyme. I knew we'd meet here. I don't know what's worse: the incorrect place of said rhyme or the new verb "party rock." 
8. "Thanks for not replying/It's Paris Hilton, b**ch"
Weezy gets worked up over proper text etiquette. 

9. "Love is such a science, do you think it's love?"
No.
10. "Lick it, lock it, it's the last day to party"
Tuesday, October 8, 2013 is the last day to party?! Stop reading! You have partying to do. And licking. And locking?
It's enough to make you yearn for the days of "Stars are Blind."
More:
Unexpected Music Star Reinventions
Jessie J Is Killing Music
So Bobcat Goldthwait Directs Music Videos Now
---
From Our Partners:


A Complete History Of Twerking (1993-2013) (Vh1)


15 Stars Share Secrets of their Sex Lives (Celebuzz)